2006-04-13 ALMA Calibration Group Telecon Agenda and Minutes
---
ALMA Calibration Group Telecon
Date: April 13, 2006 (Thursday)
Time: 15:00 UT
Duration: 1.0 hr
USA Toll Free Number: 1-877-919-7148
International: +1-203-566-1039
Passcode: 5 1 0 4 6 8
Leader: JeffMangum
Table of Contents:
---
---
Action Items from Last Telecon
| Assigned To | Due Date | Description | State | Notify | |
| --- | --- | --- | --- | --- | --- |
---
Agenda and Minutes
NOTE: Discussion from the telecon is shown in italic.
Attendees
Richard Hills
Daisuke Iono
Ryohe Kawabe
Shigehisa Takakuwa
---
Calibration Examples
There will be a followup Systems Requirements Review (SRR) on 2006 April 24-25 0900UT-1600UT. A timing diagram was prepared by SEI for discussion there (see the following figure produced for discussion and please discuss it.) In this example, fast switching between B9 and B3 is envisaged. Details of laser design suggest that fast switching between
any two bands
may be expensive.
Will B3 always be the reference band?
Answer: Not necessarily. Would like to have the option of using Band 4 as a phase reference band.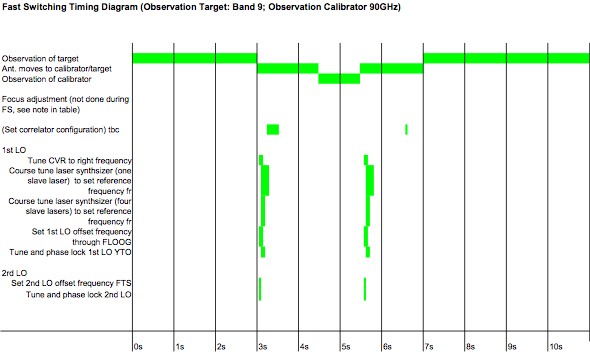 Solar calibration is a subject of some urgency. An example document should be written. With the Solar Filter in, there will be no use of the WVR, of any other band (no fast switching) and there will be no use of the amplitude calibration device. This is urgent. See Solar Oberving wiki page.
As noted by
AlWootten
, an action item for Science from the Systems Requirements Review (SRR) was to fill out the "calibration examples". These "examples" should be used as "atomic" descriptions of each type of calibration, upon which we can build descriptions ("use cases", if you will) of how each type of calibration will be executed. We now have drafts of a few of these example documents in-hand. A
Calibration Examples Wiki
page has been set-up for this group writing task. A final version of a document which describes the step-by-step process by which amplitude calibration is done, by
RobertLucas
and
JeffMangum
, has been posted to give an example of what I think we are looking for. The following "volunteers" have been assigned to write these documents:
All should read the drafts and post comments to the CalExamples wiki. Those drafts which have not yet been posted should be made available to the group by April 1, 2006 so that everyone will have time to read them by our our next telecon.
---
Amplitude Calibration Subsystem Development Reports
Berkeley Absolute Flux Calibration System (JimGibson)

Worked at CARMA last couple of weeks.
Semi-Transparent Vane (STV) Calibration System (ThomasWilson)

Need only to get final report from Jesus Martin-Pintado. Reminder has been sent.
Multi/Dual-Load (M/DL) Calibration System (Matt Carter)
---
Weather (Ancilliary) Measurement Devices
JeffMangum
has started working on actual hardware specification for weather instrument systems.
No new progress on this.
On a related issue, the demise of the Site Characterization work has implications for installation of weather monitoring information at the OSF. What instrumentation can and/or should be moved from the site to the OSF for the antenna characterization and integration work to be done at the OSF? Several people made comments on this issue:
Wind Bird: Lars pointed out that the Davis wind monitor is the only wind measuring device that can be read remotely (i.e. dumped to a database for remote access). This instrument can be moved from the site to the OSF with little difficulty.
Hygrometer/Temperature/Pressure: Simplest option is to use the Buck CR4 currently installed in the ALMA/US site characterization container. Lars and Angel Otarola have pointed out that this device likely needs to be recalibrated. Estimated cost $500-$3500.
Temperature Sounder: Even though the temperature sounder will be needed for monitoring of the atmospheric temperature profile on the site, we will need to purchase it as soon as possible in order to get experience with this measurement system.
---
Calibration Needs for Cross-Correlation of the ACA and the Main Array (EdFomalont)
The most relevant question within this topic for the calibration group is whether there is any significant gain for the ACA and ALMA arrays to be cross-correlated. The first-cut answer is "not enough in view of the large effort needed for this capability". See
CalAca
for
EdFomalont
summary.
EdFomalont
is iterating on this issue further with NAOJ scientists. Please see the
ACA Calibration Plan
which was discussed at the ACA System Review.
Please post comments/discussion on this issue to the CalAca wiki. In order to close this issue by our next telecon, please comment by March 1, 2006.
EdFomalont
- 09 Mar 2006: Suggests the following points for discussion:
Some concensus and recommendations about the coordinated versus simultaneous use of the ACA and ALMA. Are we leaning toward simultaneous use when both arrays are needed for the science project? Does this mean coordination of ALMA/ACA scheduling?
Are there any differences between the needed ALMA and the ACA calibrations? Going down Table 4 in the ACA Calibration Specifications and Requirements, I don't see any.
Some calibrations, where strong sources can be used, can be done by a small number of telescopes with or without ALMA/ACA connection, and using the individual correlators. Some of these are:

Initial pointing model for the sky
Subreflector, feed settings
Antenna motion
Antenna location (although ALMA and ACA must tie in sometimes)
Geometric, Electronic Delay (average bandpass included)
Sideband ratio
Lowish frequency Atmosphere delay

Calibrations that require high sensitivity and must use as many array elements as possible are:

Reference pointing
Atmosphere delay at highish frequencies
Primary beam properties in all Stokes parameters
Polarization calibration (maybe)
Accurate bandpass properties

I think that some of the total-power ACA calibrations may be different, but I have no expertise about this.
I envision a more united effort for ALMA plus ACA for many aspects of the combined arrays. The most important driver is better quality science for many reasons besides increased SNR. However, there are other considerations, some of which are political.
The basic question is the following: are there any reasons not to correlate ALMA and the ACA? None were presented. Therefore, from a science perspective, all antennas on the site (ACA 7m, ALMA 12m, ACA 12m) must be available for combined and simultaneous observations.
The next thing for EdFomalont is to work on an "examples" document to describe how the ACA/ALMA calibration will be done.
---
ASAC is concerned about ALMA's ability to achieve 1% repeatability for "relative" (in-band) amplitude calibration. We need to address a repeatability specification.
See discussion in 20060209 Calibration Group Minutes. BaltasarVilaVilaro is working on a memo which does many of these calculations.
---
WVR Tests on the SMA
See Richard's report and followup reports. Currently doing more thorough analysis of the existing test data.
---
Date of Next Phone Meeting
The next ALMA Calibration Group telecon will be
2006, May 11th 15:00 UT
.
---
--
JeffMangum
- 13 Apr 2006