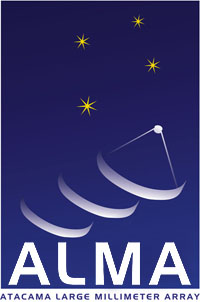 ASAC Telecon 8th Dec 2010: Agenda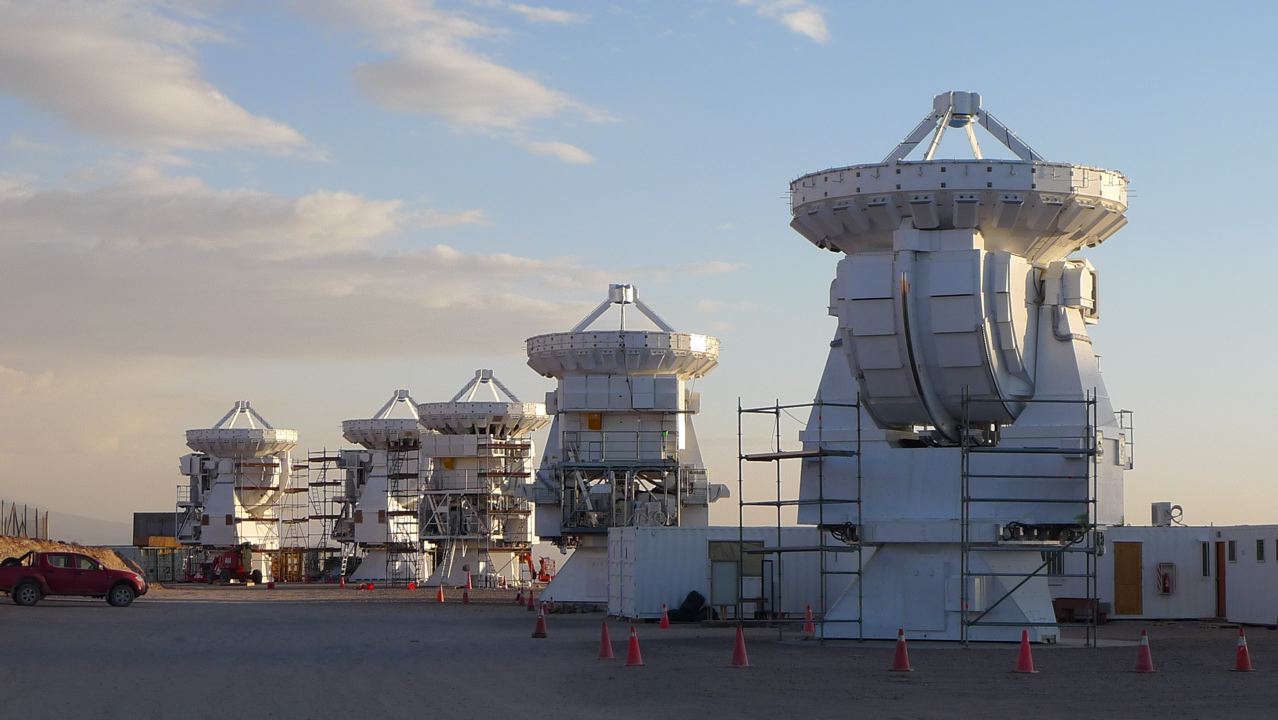 Five ALMA 7m antennas being built by Mitsubishi at the OSF, seen in this photo from M. Norikazu. Image courtesy ALMA (ESO/NAOJ/NRAO).
Note: Line noise may be muted by pressing *6 which works through the call center.
Duration: 1 hr
Toll Number: 1-203-480-8549
USA Toll Free Number: 866-600-8836
Passcode: 3283890
Leader: Richard Hills
Previous meeting
October Report to Board Oct2010 Report
New Business
Project Report

JAO Reports

CSV activities at the high site continued with eight antennas. These were a mixture of observational tests, which produced some more nice data, and technical investigations. There is a clear trend towards a greater availability of the antennas and a lower rate of faults, although there is still a long way to go to achieve a level of reliability that will be satisfactory in the long term.
Deliveries of Front Ends resumed so that we can expect to add several more fully-equipped antennas to the system early in the New Year. Construction of both AEM 12m antennas and Melco 7m antennas is in high gear and the testing of the first of each of these is well advanced.
The testing of software release 8.0 is in full swing and we expect to be doing the first trials at the AOS within a week. The problem with the part of the archive that is used for the monitoring data have turned out to be deeper than and first thought and a lot of effort is going into getting into the bottom of that.
October_2010.pdf: Science portion of October JAO Report. The full reports are available at Monthly Reports.
General_Overview__2010Nov30.pdf: Integrated Project Schedule 2010 November 30 (Science schedule is under review for Early Science and not reported this month).

Informative weekly meetings.

Path to Early Science

The various reviews and meetings that took place in October and early November consistently reached the conclusion that the Project is in a position to proceed with plans to start Early Science, on a best efforts basis, in the second half of 2011. An outline plan was presented to the Board taking into account the recommendations of the ASAC and the review panels. The Board endorsed this proposal and authorized the Director to make the necessary decisions on capabilities and timing, while emphasizing that the overriding priority remains the completion of the full array without undue delay.

The Presentation to the Board can be found here.
Note that this is to remain confidential until we are ready to make a public announcement, so please do not pass it on. This and other confidential documents are on EDM rather than attached to the twiki. If you do not have EDM access please contact Richard Hills.)
We plan to set out these plans in simple terms in an announcement which will by made early in January. The draft is here.

Proposal Review.

As promised an Implementation Plan has been drawn up and is available here.
For Cycle 0 a somewhat modified process will be in effect and the differences are explained in this document.

Early Science Capabilities. As discussed at the face to face meeting and outlined in the above documents, we have a clear set of minimum capabilities that we expect to be able to offer and we are working to establish which, if any, of the "stretch" capabilities can be demonstrated to be working at a satisfactory level by the time of the Call for Proposals. Details are as follows:

Spectral Modes. One of the issues raised at the face to face meeting was the question of whether it would be possible to bring forward the capability of using "mixed modes" of the correlator to improve the continuum sensitivity when making spectral line observations. We have discussed this with Computing and it was immediately clear that it would not be possible to have the mixed modes proper in time for Early Science. The testing of the correlator modes has however been going well and we expect that essentially all of the standard modes will be available, giving the full range of spectral resolutions from about 20 MHz right down to about 20 kHz in steps of a factor of two. It turns out that for typical values of the spectral resolution needed for e.g. observations of protostars, the bandwidth available will be large enough to give really rather good continuum sensitivity. The details can be found in these slides.
Configurations. We are working on the details of the ES "small" and "medium" arrays. The first of these has 16 antennas in the northern half of the central cluster and gives a beam width of about 1.4"*W (where W is the wavelength in millimeters) and the second uses a selection of the same pads plus a some from the region a little outside the central cluster to give beam-widths of ~0.7*W. Next week we plan to move an antenna to one of the original phase 1 pads which will give us baselines to the other antennas of 500 to 600 meters. This will enable us to check thoroughly that all elements of the system work well on these baselines and in particular to investigate the phase correction performance with larger atmospheric errors. Assuming these tests go well a decision on whether to offer the longer baselines will depend on whether we can come up with a plan for the deployment of the antennas that minimizes the amount of time and effort that would be taken up by reconfiguring the array.
Mosaicing. We have done some initial tests but this will only be running in the "proper" way in January when we have R8.0 deployed.
Polarization. Again, we are taking initial test data which looks promising. More in depth tests are planned for February when several experts will be available for a focused campaign.
Zero-spacing. Although the ASAC recommended that this should be given lower priority, we have not yet completely closed off the possibility of making single-dish observations for spectral-line sources only. It appears that it would be relatively straight-forward to take the data for this case (where rapid scanning is not required) but the processes of combining these with the interferometric data is of course untested and there are doubts as to whether the necessary user documentation can be prepared in time.

Reports from regional Project Scientists (Testi, Saito, Wootten)

EU

ALMA training and meetings page at ESO. We had a very successful workshop in Grenoble last week, workshops/tutorials are planned in Manchester (next week), Bonn and Leiden (winter/spring), Garching (Apr 6-7) and Bologna (early June)
The impact of Herschel surveys on ALMA Early Science presentations and posters will be online by the end of this week
ARC Network has started a dedicated effort to work with ALMA datasets in CASA
Radionet-3 proposal submitted, exploring the possibility of a new COFUND project for Fellows
Development Plan Studies proposals have been reviewed, including feedback from ESAC. We are now looking at how many we can directly support

EA

Development Plan Studies has resumed and will be discussed in the coming f2f meeting.
Three workshops in the 2nd half of 2010 are selected to be supported by ALMAJ, Interstellar matter, Nearby Galaxies, and Submillimeter Receiver Technology.
A new ASAC member is in the process of selection and will be announced shortly.

NA

Reports from the regional advisory committees:

ESAC Report (Tacconi)
ANASAC Report (Johnson)
EASAC Report (Momose)

Astronomer Outreach: Main JAO website, ESO Newsletter, NAOJ News, NRAO Newsletter, NRAO ALMA Calendar.
Membership -

K. Johnson term extended until June 2012.

AOB
Future Meetings

Telecon 12th Jan 2011, 14:30 UTC.
We need to confirm the date for the next face to face meeting in Santiago 28th Feb and 1st March 2011.
Science Corner
New Worlds, New Horizons in Astronomy and Astrophysics (prepublication version)
Events of Interest
| | | | | | |
| --- | --- | --- | --- | --- | --- |
| 2010 | | | | | |
| Day | Date | Time | Event | location | details |
| | Jan 15-17 | | ALMA Workshop | IRAM | |
| | Jan 9-13 | | 217th AAS Meeting | Seattle | |
| | Jan 15-17 | | ALMA Workshop | Victoria | |
| | Jan 13-14 | | ALMA Users Meeting | Tokyo | |
Upcoming Meetings
217th AAS Seattle, WA
Observing with ALMA - Special Session- January 12, 2011 2:00 PM
15-17 Jan 2011 Workshop
ALMA: Extending the Limits of Astrophysical Spectroscopy; in Victoria
The Molecular Universe
May 30 - June 3, 2011 Toledo, Spain --
RichardHills
- 2010-12-06