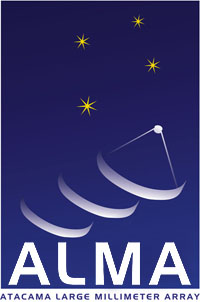 ;
Note: Line noise may be muted by pressing *6 which works thru the call center.
Duration: 1 hr
Toll Number: 1-203-480-8549
USA Toll Free Number: 866-600-8836
Passcode: 3283890
Leader: Richard Hills

Seven ALMA antennas in operation at the AOS, seen in this photo of unknown provenance 2010 August 10. There are seven once more, but one of these has been replaced with a more recent arrival. A sack of data to the person who correctly identifies the antenna replaced.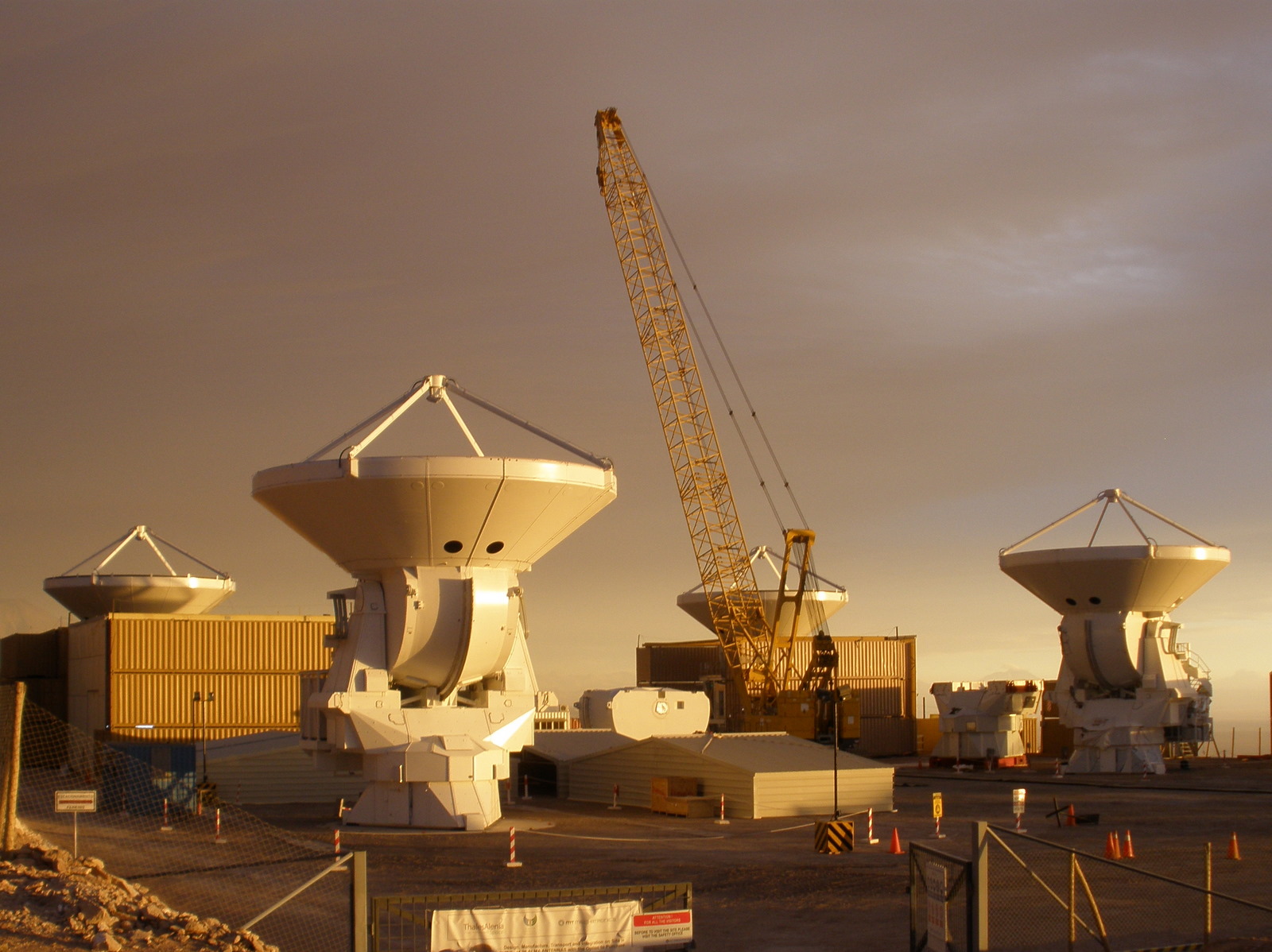 At the OSF, the antenna facilities continue to assemble their progeny--here four antenna from the European consortium are seen at attention.
Previous meeting
Agenda: Agenda.
Old Business
The document describing the Proposal Review process has been separated into two parts as ASAC suggested. The top level document has been circulated but is also attached here: Principles of ALMA Proposal Review Process.
New Business
Project Report

I regret to say that we have had a third fatal accident on the road at the site. It occurred early on Saturday morning and this time it was one of our own staff. Héctor Carrasco, a welder from the facilities group, was driving down from the OSF towards the public road and went off the road near km 11. A detailed investigation into the cause and circumstances of the accident is going on.
Brief status report. Here are the CSV sections of the June and July reports. Full Project Reports for previous months can be found in ALMA Monthly Reports.
We presently have seven antennas at the AOS. There are four antennas in the AIV area at the OSF - two more Vertex antennas and two of the Melco twelve meter antennas, all of which have been conditionally accepted quite recently. DV01 is currently undergoing some refurbishment work at the Vertex site. There is one 7m antenna at the Melco site (together with PM03 which is also being refurbished) and the pieces for four more 7m antennas are due to arrive on site tomorrow. We presently have 10 front-ends - sufficient for operation with 8 antennas at the AOS and 2 in the OSF Interferometer - but no more are expected until November because the FE Integration Centers are focusing on completing the front-end verification tasks and, in the case of the European Center, on the final commissioning of their equipment. The front-end, and in fact the amplitude calibration devices, are presently the pacing items. There have however also been delays in bring the antenna stations into operation so at the moment we are still restricted to that short baselines in the Compact Array. We expect somewhat longer baselines to be available in the next few weeks and the contract that will provide for power and fibers for the next phase - the central cluster - is about to be placed.
Having 7 antennas in operation does of course enable us to make many important tests of the system and start to get an idea of whether the system is going to scale satisfactorily. Although we have not seen any real show-stoppers this has however been hard going. As indicated in the reports, the fault rates on both hardware and software are far too high. Here is a plot for the first three weeks of August: August_Fault_Statistics.
Naturally there is a lot of focus in the project on understanding why the fault rates are so high and bringing them down to a satisfactory level. System Engineering have taken the initiative of drawing up a list of the top priority problems and identifying teams of people to work on them. Although this is too detailed for ASAC the first cut at this is attached here. Top ten issues. This is the current working list from which the top priority items have been extracted for immediate attention. Note that the software items are not covered in detail in this document as they are being dealt with in a parallel process.
It is also important to state that many problems are being solved. A recent visit by Jeff Kern was very productive: working with the commissioning and software teams he was able to tackle a list of at least a dozen software bugs and essentially all of them were resolved. Another recent breakthrough has been made by a team from Vertex who appear to have found the explanation for the surface deformations that have appeared in the antennas at the high site: see Vertex Antenna Surface Problem
We are making progress on the "ancillary devices" which are the only Science IPT hardware deliveries. The Oxygen Sounder has been delivered and tested by the Cambridge (Cavendish Astrophysics) group and seem to be working well. Infrastructure for the Central Weather Station is being installed right now.

The work on preparing the tools needed to process applications is also moving into high gear with a series of tests in progress at the moment. Lars-Ake will give a brief update on these. Progress on testing the Observing Tool can be observed at Integrated Tests.
A series of reviews is planned for October and November to enable us to make well-informed decisions about the start of Early Science. This note gives details: Preparing for Early Science.
Face-to-Face meeting: Charges to ASAC for report at the November 2010 Board Meeting:

The principal item for this meeting is the readiness of the Project to start Early Science and the content and timing of the Call for Proposals. Key issues include: the status and reliability of the infrastructure, hardware and software (including both the real-time aspects and the suite of software for supporting observations) and of the calibration systems and methods; the completeness of AIV, CSV and System Verification tasks; and the preparedness of the user support system, as well as the expectations and needs of the user community. The ASAC will have reports from the CSV Status Review and the Science Operations Readiness Review. (Note that these reviews will be happening immediately before the ASAC meeting so final reports will not be available but members of the ASAC will have participated in those reviews and summaries of the conclusions will be presented.) In addition, reports on the status of construction and of the observatory infrastructure will be presented, along with details of current limitations and developments which relate to the question of which capabilities should be offered at which stage. Further considerations are whether or not the burden of supporting Early Science will delay the completion of the full construction program and, conversely, whether exposure, at this stage, to the problems of providing a service to users will help or hinder the project in achieving its final goals. The ASAC should provide commentary on these topics and make recommendations on how to proceed with the Call for Proposals.
Issuing the Call for Suggestions for Science Verifications targets has been postponed several times. It is now proposed to do this as soon as possible after the reviews and the ASAC meeting, in order to take advantage of the improved perspective that will have been gained. The ASAC should advise on the content of that call.
The document Principles of ALMA Proposal Review Process has been approved by the Board. ASAC should review progress on the implementation of these principles and provide comments to the Board.
Although the immediate question of readiness for Early Science will be dominant at this meeting, the ASAC should nonetheless also pay attention to the broader picture of the progress of the Project towards Full Operation and for its further development, and bring any concerns to the notice of the Board, particularly in the areas of scientific commissioning, software development and implementation and user support.

Other ASAC activities which are not formal charges from the Board.

Community sounding on expectations for early science, and ALMA information resources for the general community.
ASAC will continue to look for ways in which ALMA construction and operations might be more environmentally friendly, especially in terms of energy use (without compromising science). (Issues of energy use are discussed in the Marshall et al. Decadal Survey white paper.

Informative weekly meetings.

Information on the next

face-to-face meeting in Santiago 2010 Oct 13-14

The CSV status review (7/8 Oct at the OSF) and the readiness review for Science Operations (11/12 Oct in Santiago respectively) will take place immediately before the ASAC meeting (13/14 Oct, also in Santiago). The plan is that three members of the ASAC will attend each of these meetings.
Email of 25 August had important logistical information.
Logistics.txt: Logistics information for f2f meeting is pretty much the same.

Reports from regional Project Scientists (Testi, Saito, Wootten)

NA: The AS2010 Survey was released 13 August, with prominent emphasis upon ALMA as a key element of astronomy and astrophysics research in the United States during the next decade. I think that we can all be very proud of ALMA's role not only in US astronomy but at the vanguard of world astronomy, and of the work all are doing to ensure that its potential is realized. The report of the Radio. Millimeter, Submillimeter (RMS) Panel was released 30 Aug; the RMS panel provided strong support for ALMA Development, recommending 'a sustained and substantial program to enhance the NRAO telescope and ALMA capabilities, amounting to $90 million for NRAO and $30 million for the U.S. share for ALMA over the decade.'
Proposal to NSF for FY 2012-2015 ALMA operations presented to committee in Santiago, report anticipated soon.
EU: Call for Development
EA:

Reports from the regional advisory committees:

ESAC Report (Tacconi)
ANASAC Report (Johnson) 15-17 Jan 2011 Workshop ALMA: Extending the Limits of Astrophysical Spectroscopy

Registration now open

; in Victoria, B. C. f2f Meeting Charlottesville 13-14 Sept 2010.
EASAC Report (Momose)

Astronomer Outreach: Main JAO website, ESO Newsletter, NAOJ News, NRAO Newsletter, NRAO ALMA Calendar.
AOB

Dr Lewis Ball will be joining ALMA on 20 September 2010, via NRAO, as Deputy Director of the Joint ALMA Observatory. Lewis spent the first part of his career working on topics in the theory of shocks, particle acceleration, synchrotron emission and inverse Compton scattering and their application to supernovae, supernova remnants, pulsar winds and radio/X-ray transients. He later moved into research management at Australia's Commonwealth Scientific and Industrial Research Organisation (CSIRO). There he recently integrated the Australia Telescope National Facility (ATNF) and the Canberra Deep Space Communication Complex (CDSCC) into a new CSIRO division, of Astronomy and Space Science. Throughout his career, Lewis has pursued research emphasizing the link between theory and observation, first in magnetospheric physics and later in space physics and astrophysics. Together with his extensive management expertise, Lewis will strengthen the leadership in ALMA.

Next Meeting

f2f meeting 13-14 October, Chile
Science Corner
New Worlds, New Horizons in Astronomy and Astrophysics (prepublication version)
Events of Interest
2010

Day

Date

Time

Event

location

details

Sep 3

Santiago Central Office Ceremony

SCO, 10:30am

Sep 13-14

ANASAC f2f

Oct 4-8

7th IRAM Interferometry School

IRAM

Oct 7-8

CSV Status Update

Chile

Oct 11-12

Chile

Oct 13-14

ASAC f2f

Santiago

Oct 25-28

Annual ALMA External Review

Chile

Nov 10

Observatory Readiness Review

Chile

Nov 16-18

ALMA Board Meeting

Chile

Nov 17-19

ALMA Workshop

Garching

Nov 22

Date for decision on ES

Chile

Nov 29-Dec 1

ALMA Early Science Workshop

IRAM, Grenoble

Jan 15-17

ALMA Workshop

IRAM

Jan 9-13

217th AAS Meeting

Seattle

Jan 15-17

ALMA Workshop

Victoria
Upcoming Meetings
The 5th Zermatt ISM Symposium: Conditions and impact of star formation: New results with Herschel and beyond
19-24 September 2010, Zermatt, Switzerland
Stormy Cosmos: The Evolving Interstellar Medium: Recent Progress from Space IR/Submm
1 - 4 November 2010 Pasadena, CA Hosted by the NASA Herschel Science Center, Spitzer Science Center
The Impact of Herschel Surveys on ALMA Early Science
Garching, November 17-19, 2010
Observing with ALMA--Early Science
IRAM, 29 Nov - 1 Dec 2010
217th AAS Seattle, WA
Observing with ALMA - Special Session- January 12, 2011 2:00 PM
15-17 Jan 2011 Workshop
ALMA: Extending the Limits of Astrophysical Spectroscopy in Victoria
The Molecular Universe
May 30 - June 3, 2011 Toledo, Spain --
RichardHills
- 2010-09-06