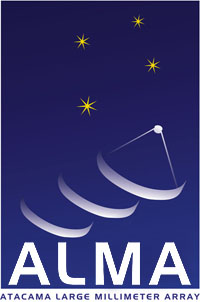 ;
Note: Line noise may be muted by pressing *6 which works thru the call center.
Duration: 1 hr
Toll Number: 1-203-480-8549
USA Toll Free Number: 866-600-8836
Passcode: 3283890
Leader: Richard Hills
Five Antennas at the AOS:
The configuration early in June. Credit: Norikazu Mizuno © ALMA (ESO/NAOJ/NRAO)
Previous meeting
Agenda, Minutes: Agenda.
Membership. Frédéric Gueth takes over as Chair as of 1st July. The EASAC have nominated Momose-san as the second Vice-Chair.
Old Business
Liaison Information Fill in the wiki please
Response to the March 2010 ASAC Report
The document describing the Proposal Review process has been separated into two parts as ASAC suggested. The top level document has been agreed by the Board and will be circulated after a few final tweaks. The more detailed implementation plan is being worked on and should be ready for circulation by the beginning of September.
New Business
Project Report

I regret to say that we have had a second fatal accident on the road between the AOS and the OSF. Earlier this week a truck which had been delivering fuel to the high site went out of control on the way down and the driver was killed. As in the previous case this accident did not involve ALMA staff but an external contractor. It is nevertheless extremely upsetting that this leaves his wife on her own to care for three children. As with all the accidents that have occurred on the site a detailed investigation is being undertaken.
Brief status report. Here is the CSV section of the May_2010 monthly report. Full Project Reports for previous months can be found in ALMA Monthly Reports. See Science_Milestones_30june2010.pdf for 'the big picture' as of end of June.
DV01,DV02, DV03, DV05 and PM02 are at the AOS. Note that PM03 is present in the photo above, but it was brought down for scheduled work and PM02 has now been taken up.

There are presently four antennas at the OSF (DV04, DV06, DV07 and as of Tuesday, DV08). We are operating DV04 and DV07 as a test interferometer. DV06 and DV08 are going through the AIV process.
PM03 has been relocated to the Melco camp for upgrades to the thermal insulation on the receiver cabin.
The antenna locations at the AOS are shown here. Antenna Locations at AOS. We now have baselines of ~18 to 45 meters. We are calling this the "Initial Commissioning Array" configuration. This allows good tests of e.g. antenna performance at different elevations. With four antennas we have checked amplitude closure on 20 May. We expect to have 6 antennas at the AOS later in July and 8 in August.
The first AEM antenna is now under-going tests and the second is close behind. Try this if you have a fast link: AEM antenna.
We produced a summary of the Status of the Commissioning for the ALMA Board: CSV_status.
A paper summarizing the status of construction and commissioning was given at SPIE in San Diego is here: SPIE paper
Face-to-Face meeting: Charges and preliminary discussion
Reports from regional Project Scientists (Testi, Morita, Wootten)

Morita-san will be taking a new role as System Verification Scientist at the JAO from 1st August and will be moving to Chile.
Masao Saito, who has played a leading role in the ALMA-J antenna team and has now joined the EA ARC, will take over as Project Scientist for that region.
Mark McKinnon is now ALMA Project Manager for NA and ALMA Project Director for NRAO.
Proposal for NA ALMA Operations is being reviewed at present - the review panel is in Chile at the moment.
Development. Regions are developing plans for the ALMA Development process.
Operations Plan Version E. Status presented to Board. Will be sent to Board for November meeting.

and from the advisory committees:

ESAC Report (Tacconi)
ANASAC Report (Johnson) 15-17 Jan 2011 Workshop ALMA: Extending the Limits of Astrophysical Spectroscopy; in Victoria, B. C. f2f Meeting Charlottesville 13-14 Sept 2010.
EASAC Report (Momose)

Astronomer Outreach: Main JAO website, ESO Newsletter, NAOJ News, NRAO Newsletter, NRAO ALMA Calendar.
AOB
Next Meeting

Telecon 2010 Sep 8
f2f meeting 13-14 October, Chile
Science Corner:
arXiv:1005.3077 Testing the ACA Phase Correction Scheme using the SMA
Authors: Satoki Matsushita (1,2), Yu-Lin Chen (1,3,4) ((1) ASIAA, (2) ALMA, (3) NTU, (4) Taipei County Yong-Ho Junior High School)
arXiv:1004.5389 Resolved images of self-gravitating circumstellar discs with ALMA
Authors: P. Cossins (1), G. Lodato (2), L. Testi (3) ((1) Department of Physics and Astronomy, University of Leicester, UK (2) Dipartimento di Fisica, Universita' di Milano, Italy (3) European Southern Observatory, Garching, Germany)
Calendar
2010

Day

Date

Time

Event

location

details

Jul 15

ASAC Meeting

telecon

Jul 13-18

Chile

Aug

ALMA System Review III

TBD

Sep 13-14

ANASAC f2f

Oct 7-8

CSV Status Update

Chile

Oct 11-12

Chile

Oct 13-14

ASAC f2f

Santiago

Oct 25-28

Annual ALMA External Review

Chile

Nov 10

Observatory Readiness Review

Chile

Nov 16-18

ALMA Board Meeting

Chile

Nov 22

Date for decision on ES

Chile
Events of Interest
(see also Al's
ALMA Biweekly Calendar
)
Upcoming Meetings
Molecules in Galaxies
26-30 July 2010, Oxford UK
Stormy Cosmos: The Evolving Interstellar Medium: Recent Progress from Space IR/Submm
1 - 4 November 2010 Pasadena, CA Hosted by the NASA Herschel Science Center, Spitzer Science Center
The Impact of Herschel Surveys on ALMA Early Science
Garching, November 17-19, 2010
15-17 Jan 2011 Workshop
ALMA: Extending the Limits of Astrophysical Spectroscopy in Victoria
The Molecular Universe
May 30 - June 3, 2011 Toledo, Spain --
AlWootten
- 2010-07-13