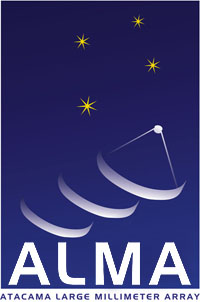 Duration: 1 hr
USA Toll Free Number: 877-874-1919
Toll Number: +1-203-320-9891
Passcode: 185064
Leader: Al Wootten
Old Business
Agenda of f2f meeting
There was no November telecon of the ASAC. Agenda and Minutes of older telecons may be viewed at the ALMA EDM site
Sitescape
or more recently at the Board ASAC site.
New Business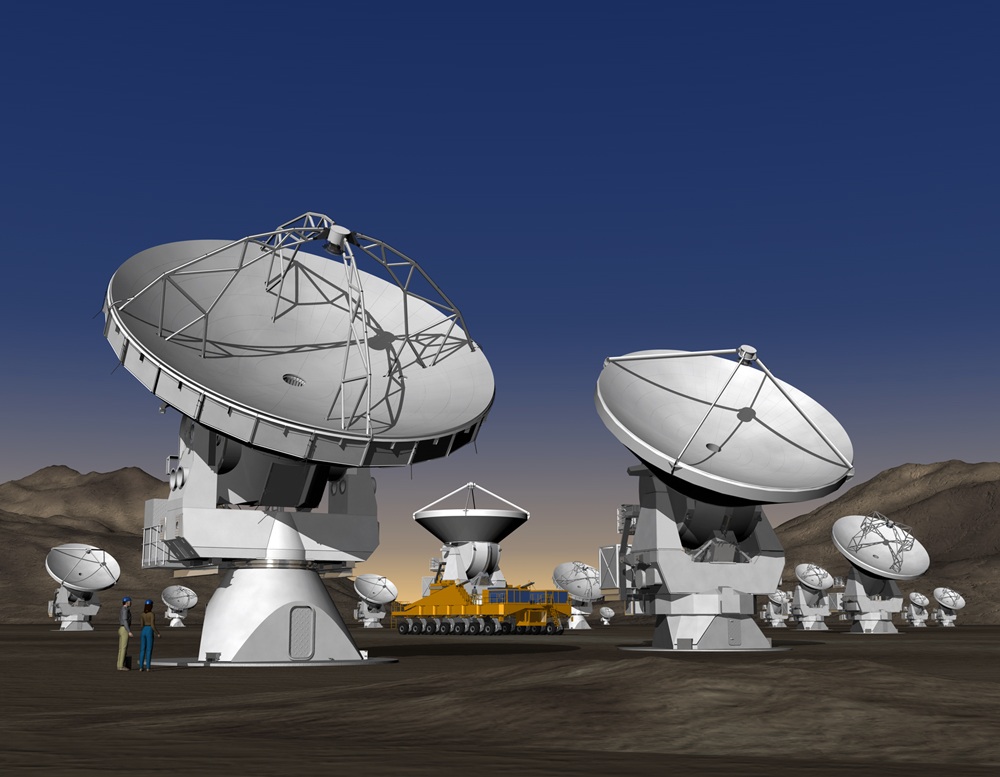 New ESO renditions of the array. See
other images and animations
.
Project news/updates

Operations, funding, Board meeting news (Tarenghi)
Construction progress (Beasley)

Board Communications

Report from John Richer on November Board meeting
New charges? Possible future charges:

TAC details and implimentation options
Review of DRSP v2
Computing? Now or later?
Operations Plan
Other suggestions?

Science IPT Report (Wilson, Wootten, Kawabe)
Outreach
AOB
Next Meeting 2007-January-10-14:30 UT suggested.
Science Corner:
Executive Summary of
Report
from Workshop on Submillimeter and Far-Infrared Laboratory Spectroscopy in Support of Herschel, SOFIA, and ALMA October 19-20, 2006 Pasadena, CA Astronomers must develop a plan to deal with harmful effect of spectral line confusion on the scientific return from the Herschel Space Observatory, the Stratospheric Observatory for Infrared Astronomy (SOFIA), and the Atacama Large Millimeter Array (ALMA). These major new facilities will open up the submillimeter region of the electromagnetic spectrum by making investigations of unprecedented high sensitivity and angular resolution possible. Much of the scientific interest will be in observations of spectral lines. For observations of the dense regions in which star formation occurs, the youngest stars and the proto- planetary disk material surrounding them possess spectra containing a few molecular species with extremely numerous, relatively strong transitions throughout the submillimeter. These species are likely to present a serious challenge, in as much as their emission will occupy a substantial part of the spectral range available, thus impeding the study of other important species. Thus, the discovery of new species of astrophysical and astrobiological interest will be severely hampered unless the spectral lines from these "weeds" can be removed from the data. We have identified the most offensive weeds, which include six species plus their isotopically substituted variants. We propose that one (or ideally several) spectroscopic laboratories in the US be equipped with sources and detectors to cover the frequency range up to 2 THz, and that they each be funded to hire personnel to actively engage in a program of measuring the spectra of these weed species over a 2 to 3 year period from the present until the first Herschel data are available. Using a combination of traditional quantum state assignment and novel techniques involving measurement and classification of spectral lines measured at different temperatures, the data necessary to remove the weeds from astronomical spectra can be made available. Ongoing measurement and analysis efforts will be required to complete the process for ALMA, SOFIA and other submillimeter facilities.
Calendar
Official JAO Calendar
Events of Interest
(see also Al's
ALMA Biweekly Calendar
)
| | | | | | |
| --- | --- | --- | --- | --- | --- |
| 2005 | | | | | |
| Day | Date | Time (EST) | Event | location | details |
| Wed | Dec 6 | 1430UT | ASAC Telecon | Telecon | |
| | Dec 6-7 | all day | ACA correlator CDR | Japan | |
| Thu | Dec 7 | | ALMA Board Telecon | Telecon | |
| | Dec 14 | all day | LLC and LO Photonic Rx DR | Cville | |
| We | Dec 20 | 1430UT | ALMA Sci IPT Telecon | Telecon | |
| Fri | Dec 29 | 1800UT | ANASAC Telecon | Telecon | |
| | Jan 16-17 '07 | all day | Transporter FDR | | |
| Thu | Jan 18 | | ALMA Board Telecon | Telecon | |
| | Jan 30 | all day | AEM antenna PPDR | | |
| | Feb 6-7 | all day | B9 Cartridge CDR | | |
| Thu | Feb 15 | | ALMA Board Telecon | Telecon | |
Upcoming Meetings
Science with the Atacama Large Millimeter Array (ALMA) II
November 13-17; Madrid, Spain
Molecular databases for Herschel, ALMA and SOFIA
6 Dec 2006 through 8 Dec 2006 Leiden, Netherlands
Fourth Chilean School of Astrophysics--Interferometry in the Epoch of ALMA and VLTI
4-8 December 2006, Santiago, Chile
AAS Meeting
5-10 Jan, 2007, Seattle, Washington
Asian Radio Astronomy Winter School
January 22-26, 2007 National Astronomical Observatory of Japan (NAOJ), Mitaka, Tokyo, Japan
Astrophysical Masers and their Environments
2007 March 12-16, Alice Springs, Australia Frontiers of Astrophysics, a Celebration of the National Radio Astronomy Observatory's 50th Anniversary", June 18-21, 2007, Charlottesville.
Transformational Science with ALMA: Through Disks to Stars and Planets
June 22-24, 2007, Cville
USNC URSI
9-14 July, Albuquerque, NM Astrophysics in the Next Decade: JWST and Concurrent Facilities. September 24-27, 2007, Tucson Arizona See also
NAASC listing
--
AlWootten
- 05 Dec 2006