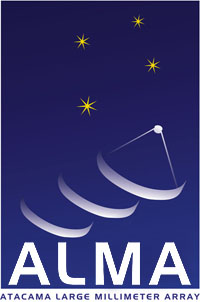 Note: Line noise may be muted by pressing *6 which works thru the call center.
Duration: 1 hr
USA Toll Free Number: 877-874-1919
Toll Number: +1-203-320-9891
Passcode: 185064
Leader: Richard Hills
Attendees:

Blain, Hills, Peck, Johnstone, Wootten, Bally, Baker, Kohno
Old Business
Agenda, Minutes: Agenda of September meeting. Informal notes are available. Agenda and Minutes of older telecons may be viewed at the ALMA EDM site Sitescape or more recently at the Board ASAC site.
New Business
Feliz Navidad y Feliz año nuevo
A view from the newly completed holography tower No. 2 toward the Operations Support Facility. Seven Vertex antennas and four Mitsubishi Electric Company (Melco) antennas (left foreground) are now on the site, with six visible in the panorama above. Four others are erected in the Vertex Site Erection Facility (SEF), the building in the left background. Nearby two Vertex antennas are being tested just outside the building. Inside the SEF, one antenna awaits assembly. Four Melco antennas lie in front of the Vertex complex. In the immediate left foreground, an area is being prepared for the first AEM antennas, expected to arrive from Europe soon. To the right is the Operation Support Facility Technical Building complex, now being readied for the arrival of the first of the production antennas. A transporter will move the antenna, expected to be Melco No 2 (second from right of the four in the picture) to the courtyard at the OSF TB, center right. The transporters can be seen in their shelter, to the right and above the courtyard. See
other images
.
Project news/updates

Updated Science Milestones (see attachment). This is for discussion, either now or at the f2f meeting. In particular we need to consider whether the requirements for starting Early Science are excessively demanding.
Project Status Nov '08 JAO report to Board (Hills)

A great deal is being achieved - in particular a second ("engineering model") Front End has been delivered and we believe that we are on the verge of provisionally accepting two antennas. There has however been a substantial slippage in the overall schedule due mainly to the accumulation of late deliveries and the fact that we are finding that testing and verification is taking much longer than expected. A very detailed re-examination of the schedule was undertaken in September and October with the emphasis on making it realistic and ensuring that some margin to deal with unexpected problems was included. This resulted in a new baseline schedule, which is attached. It will be seen that in this the start of Early Science has moved off until Oct 2011, which is of course very disappointing. This exercise did not however look at ways of reducing the delays by making changes to the plans, e.g. by changing the order in which tests were carried out. A plan to do this in getting to the start of CSV and it does look as if it should be possible to pull that forward by about 3 months. A further detailed review of the schedule will be undertaken early next year.

Board meeting news. (Hills)

ASAC Report delivered to Board.
Face-to-face meeting in Chile 28-29 Jan. See travel note attached below please.
Panel to prepare ALMA Development Proposal has had several telecons, draft report written.

Discussion of new Board Charges.

Continuing Charges:

1) ASAC should continue to monitor and assess the readiness of ALMA software, in particular to review the outcome of software CDR number 6

July 14-16

and the ongoing work on detailing the software requirements for Early Science. These topics should be covered in the ASAC's written report for the Board's November 2008 meeting. See results of recent Review. Response
2) ASAC should continue to review AIV/CSV activities and to recommend necessary and desirable changes. Any significant new issues in this area should also be included in thereport for the November 2008 meeting, but the Board expects a more detailed examination of these topics after the ASAC meeting in Chile in early 2009.
3) The ALMA Board has charged the Project to draw up a long-term ALMA Development Plan in consultation with the international astronomy community. The plan should set out the scientific context for transformational science with ALMA in the next two decades, in the era of for example JWST, ELTs and SKA, and recommend developments necessary to achieve this vision. The ALMA Board views this plan as having a high strategic priority, and is coordinating its development across the entire ALMA partnership. The process of generating the ALMA Development Plan should be led by the JAO Project Scientist and the ASAC (with support from the Executives). The first stage will involve an examination of the scientific drivers by a team of astronomers, chosen to be representative of the broad astronomy community that is expected to use ALMA. It is therefore important that the proposed team include people with a broad perspective and expertise at wavelengths outside the range that will be observed by ALMA as well as people with experience of mm-wave interferometry and instrumental development. This team should take time to work with the community, e.g. by sounding their own 'networks' and holding local discussions, before making a first-order draft of potential long term developments, grouping them in high, medium and low scientific priority, and identifying the ones which require long-lead technical developments. The ASAC should review and comment on the report (again with members taking soundings through their networks) before submitting it to the Board. The Board would like to receive a progress report on this at its November 2008 meeting and, if possible, the full report by March 2009. The Board suggests that it would not be appropriate to hold a large community workshop devoted to this topic, but recommends that discussion sessions be planned as part of other workshops (e.g. at one of the annual ALMA-oriented science workshops, or at more general meetings on future astronomical facilities). It is anticipated that a larger-scale activity will follow after the start of Early Science.

Further Charges (to be confirmed):

4) The ASAC should review the plans for provision of ALMA Regional Centers and report to the Board's March 2009 meeting.
5) Noting that 2009 is the International year of Astronomy, the ASAC should examine the Project's activities in the area of outreach, both to the general public and to the astronomical community, and make suggestions as to how they and the ALMA Project could enhance these activities.

Dates Early 2009 meeting is 28-29 January in Chile at the OSF.

Science IPT Report (Hills, Wootten, Testi, Morita)

Change Control Board items, other technical concerns (Hills)

Band 3 Receiver Noise Temperature Specification ASAC recommended, in part "ASAC recommends pushing back on the request to specify that each delivered receiver should meet the new requirement in both polarizations, as this would maximize the uniformity and depth of polarization observations. Furthermore, we would encourage the project to continue any possible mixer development work that could yield improved devices for inclusion in frontends produced later in the manufacturing run. As a workhorse band that can be operated in most weather conditions, we consider that some expenditure now to make the full array a few percent faster in band-3 would yield a valuable payoff." Please read the JAO response, attached below, for followup.

Current Project Schedule Forecast (prior to amelioration!):
ATF: (Peck)

Summary. ATF will operate thru 20 Dec. Laing to take over day-to-day scheduling 1 October, Peck to concentrate on OSF scheduling.
Present goals: (1) Getting software working (2) Developing procedures needed for AIVC, and (3) Training personnel

Astronomer Outreach: ESO Newsletter ,

New

ALMA/JAO website, NRAO Newsletter ALMA News. NAOJ News. NRAO ALMA Calendar

ESAC Report (Afonso)
ANASAC Report (Blain)
EASAC Report (Kohno)

AOB
Next Meeting
Science Corner:
Calendar
Events of Interest
(see also Al's
ALMA Biweekly Calendar
)
| | | | | | |
| --- | --- | --- | --- | --- | --- |
| 2008/9 | | | | | |
| Day | Date | Time | Event | location | details |
| | Dec 9-11 | | ALMA Annual External Incremental Review | OSF | |
| | Dec 17-18 | | Acceptance procedures for Melco No 2 | OSF | |
| | Dec 17 | | ASAC telecon | | |
| | Dec 18 | | ALMA Board telecon | | |
| | Dec 20 | | ALMA Test Facility closes | ATF | |
| | Jan 26-27 | | CASA Tutorial, Santiago | ESO Vitacura | |
| | Jan 28-29 | | ASAC f2f meeting, OSF | OSF | |
| | Jan 29 | | ALMA Board telecon | | |
| | Mar 11-13 | | ALMA Board meeting | OSF | |
Upcoming Meetings
URSI/NA Meeting
Jan 5-8, Boulder, CO
Abstract Book of ALMA session
N.B. Emerson talk withdrawn.
213th AAS Meeting
Jan 4-8, Long Beach, CA; NRAO Town Hall evening 7th. [[http://www.eso.org/sci/meetings/almaelt2009/][ALMA and ELTs: A Deeper, Finer View of the Universe] Mar 24-27, Garching, Germany.
Millimeter and Submillimeter Astronomy at High Angular Resolution
June 8-12, Taipei, Taiwan. See
ALMA related meetings
. --
AlWootten
- 08 Dec 2008 *
TravelPlanningJan09.txt
: Travel Planning Note *
AntennaNumberArguments.doc.pdf
: Short form arguments for additional antennas.