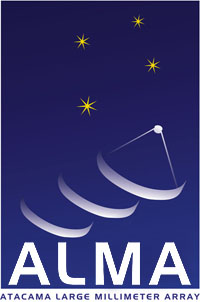 Duration: 1 hr
USA Toll Free Number: 877-874-1919
Toll Number: +1-203-320-9891
Passcode: 185064
Leader: Al Wootten
Calendar
| | |
| --- | --- |
| 24-25 Feb 2005 | ASAC Face-to-face Garching |
| 24 Feb 2005 | ALMA Board Telecon. Rebaselining to be discussed. |
| 22-24 Mar 2005 | ALMA JAO/IPT Meeting, Garching. |
| 5-6 April 2005 | ALMA Board Face-to-face meeting, Pasadena, CA. |
Old Business
Agenda, Minutes Minutes of Last Meeting
Agenda
of January meeting. Agenda and Minutes of telecons may be viewed at the ALMA
Sitescape
New Business
Project news/updates (Tarenghi and Beasley)
Board Communications (Turner)

Response to last report
New Charges
Strawperson Agenda for face-to-face meeting

pan-ALMA Science meeting (Carilli)
Science IPT Report (Wootten/Wilson/Kawabe)
Astronomer Outreach: NRAO Newsletter ESO Newsletter. NRAO ALMA Calendar

ESAC Report (van Dishoeck)
ANASAC Report (Wootten, Carilli)
Science Corner:
Sebastian Wolf writes: The new simulation was done for an observing wavelength of * 870mu *, instead of 330mu. These simulations show that the locally heated region around the (proto)planet is not visible anymore, even if the system is in a distance of only 50pc. The assumed system temperature is 220K (compared to 1200K at 900GHz - based on ALMA Memo 393). All other parameters (phase noise, pointing error/model, etc.) are the same as in Wolf & D'Angelo (2005; see
http://xxx.uni-augsburg.de/pdf/astro-ph/0410064
) The main reason for the negative result is the fact that the hot region around the planet has a small diameter only. Increasing the beam size, this signal is smoothed with the almost zero signal of the low-density gap and cannot be distinuished anymore from the bright region of the disk outside the gap. That's at least my understanding of the situation (which I found to be true in all other simulations I performed).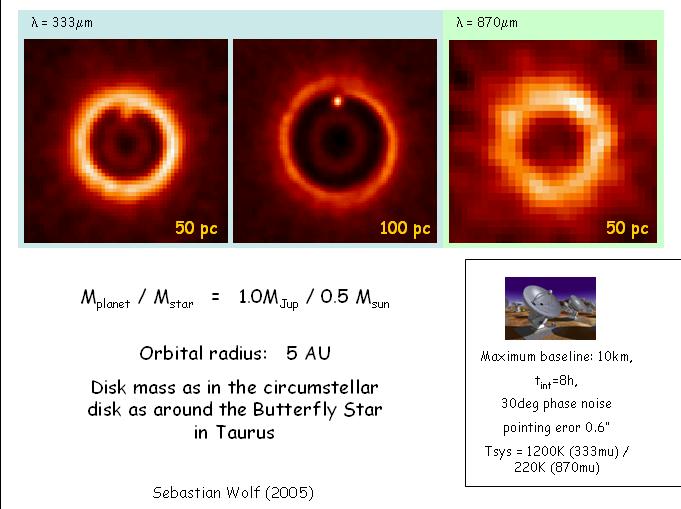 Fig. 2.— Simulation of ALMA observations of disk with an embedded planet of 1Mjup around a 0.5M⊙ star (orbital radius: 5AU). The assumed distance is 50 pc or 100 pc as labeled. The disk mass is set to that of the Butterfly Star in Taurus. Note the reproduced shape of the spiral wave near the planet and the slightly shadowed region behind the planet in the upper images. See set of
PPT slides
from W. Wolf.
Upcoming Meetings
Dusty and Molecular Universe 27-29 October 2004, Paris
Presentations Online
The SZ Effect and ALMA 7-8 April 2005, Orsay (Paris area), France
IAU Symposium 227 Massive Star Birth: A Crossroads of Astrophysics May 16-20 2005, Acireale, Italy
Workshop on submillimeter wavelength astronomy
in Cambridge (JUN 13-16).
Astrochemistry throughout the Universe: Recent Successes and Current Challenges 2005 August 29 - September 2; Asilomar, California
Protostars and Planets V 24 - 28 October 2005 Hilton Waikoloa Village, The Big Island, Hawaii
URSI General Assembly 23-29 October 2005; New Delhi, India; "Mm/submm Techniques and Science" session 25-26 Oct.
50th anniversary of the founding of NRAO October 15-19, 2006; Charlottesville, Virginia (tentative) --
AlWootten
- 28 Jan 2005