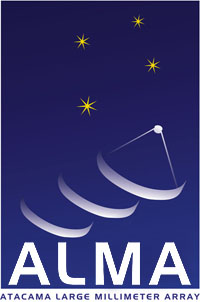 Agenda/Minutes for meeting Tuesday, 8 February at 4:00 pm EST. Date: 8 February 2005 Time: 4:00 pm EST ( 2:00 pm Socorro, 2:00 pm Tucson) Phone: Phone: (434)296-7082 (CV
SoundStation
Premier Conference phone 3rd floor). No Video planned. Past minutes, etc on MMA Imaging and Calibration Division Page
Calendar
| | |
| --- | --- |
| 8 Feb 2005 | Fiber PDR, Gqarching |
| 24-25 Feb 2005 | ASAC Face-to-face Garching Agenda |
| 24 Feb 2005 | ALMA Board Telecon. Rebaselining to be discussed. |
| 28 Feb 2005 | JP visit to NAASC |
| 22 March 2005 | ASAC Report due to Board |
| 5-6 April 2005 | ALMA Board Face-to-face meeting, Pasadena, CA. |
Topics
News
FY 2006 Budget: The Major Research Equipment account will fund the Atacama Large Millimeter Array at a level of $49.24M as planned. the National Radio Astronomy Observatory, which runs the Very Large Array, Very Long Baseline Array, Green Bank Telescope and is currently building the Atacama Large Millimeter Array (construction funded separately, see the Major Research Equipment and Facilities Construction description below) received 0.8% increases to 47.4M (FY05: $47.03M; FY04: $54.98M). The Budget document states: "NRAO is supported at the level of $47.40 million. This level of support will provide for operations, maintenance, and instrumentation for the unique telescopes of NRAO, such as the Robert C. Byrd Green Bank Telescope, the Very Large Array, the Very Long Baseline Array and the early operations of the Atacama Large Millimeter Array (ALMA). Activities in FY 2006 include making continued improvements and enhancements to the Expanded VLA and optimization of science operations of the Byrd Telescope." The expected ALMA funding profile was included and is graphed here for interest: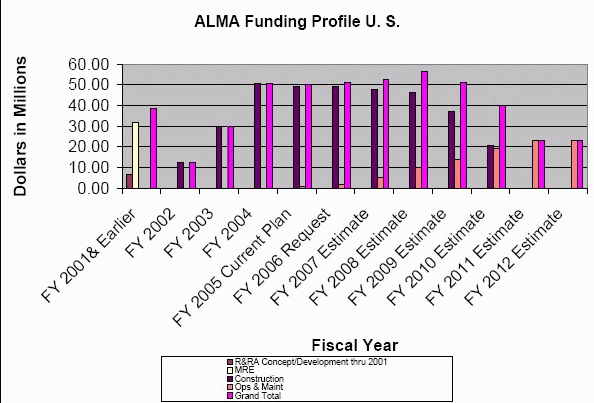 New personnel: Please Welcome Jorge Diaz, Site Characterization Engineer Assistant. New Presentations at
MMAImCal
Home page: # JHU Talk 1Feb05 # AAS Talks Antenna news -- ATF. Japan has let a contract with Mitsubishi for three additional antennas and an overhaul of the one currently at the ATF. Science IPT Rebaselining:
Revision
of Aug 2002
Budget
Risk--IMHO the risk to ALMA Level One science if the antenna complement is cut to 40 is 100%. How do we rank WVR phase correction risk vs. fast switching? Descoping Options
ASAC Charges
ASAC Charge for 24-25 Feb
ASAC Agenda for 1 Feb 05
Frequency Switching a Phased Array will be an unsupported ALMA Mode
A question has come up from the central variable reference folks. Will we want to frequency shift the phased array? I can't dream up an experiment which I think critically needs this mode. Can anyone else? Skip Thacker has said that the system can provide this mode, but it would be much easier if the phase noise and drift specifications could be relaxed for it by a factor of 2-4. For summed
SingleDish
spectroscopy of all 64 (or 80) antennas I don't think there are particular phase noise or drift specifications.
Baseline Ripple and quantization noise
Wootten is working on action item to develop a spec for this. Does he ever do any actual work?
Science Corner:
Upcoming Meetings
Dusty and Molecular Universe 27-29 October 2004, Paris
Presentations Online
The SZ Effect and ALMA 7-8 April 2005, Orsay (Paris area), France
2005 IEEE International Conference on Acoustics, Speech, and Signal Processing March 19-23 2005, Philadelphia
See
Radio Astronomy Session
IAU Symposium 227 Massive Star Birth: A Crossroads of Astrophysics May 16-20 2005, Acireale, Italy
Workshop on submillimeter wavelength astronomy
in Cambridge (JUN 13-16). The 2005 Gordon Conference on the Origins of Solar Systems, (see FEB 1 issue of "Science") Jun 26- Jul 1, Connecticut College
"Star Formation in the Era of Three Great Observatories"
Workshop, July 13-15, Cambridge MA.
Astrochemistry throughout the Universe: Recent Successes and Current Challenges 2005 August 29 - September 2; Asilomar, California
Protostars and Planets V 24 - 28 October 2005 Hilton Waikoloa Village, The Big Island, Hawaii
URSI General Assembly 23-29 October 2005; New Delhi, India; "Mm/submm Techniques and Science" session 25-26 Oct.
NRAO 50th Birthday Party 15-19 October 2006, Charlottesville --
AlWootten
- 08 Feb 2005