Date: 8 August 2006 Time: 4:00 pm EDT (4:00 pm Santiago; 2:00 pm Socorro, 1:00 pm Tucson) Phone: Phone: (434)296-7082 (CV SoundStation Premier Conference phone 3rd floor). No Video planned. Past agendas, etc on MMA Imaging and Calibration Division Page.
Discussion notes in

Red font
News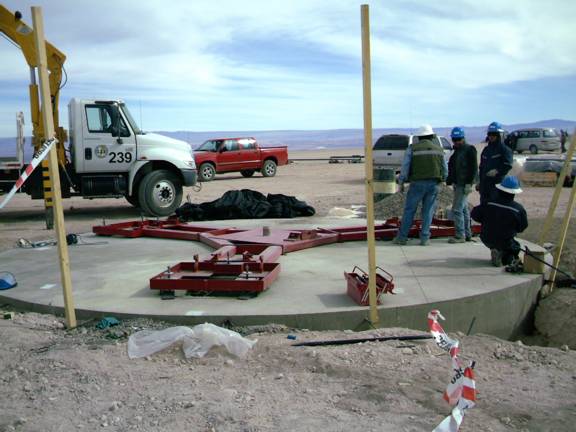 27 July Antenna pad jig
.
Site museum also opened
Project news/updates

Project Scientist advertisement, plans.
Construction progress: Vertex SEF pads
Topics
Calibration device

Discussion was held with FE IPT in CV on 31 July.

ALMA ES Modes
Weather stations: Angel reports that the CR4 hygrometer has arrived in Tucson.
Science Corner:
Calendar
Official JAO Calendar
New!!
Events of Interest
(see also Al's
ALMA Biweekly Calendar
)
2005

Day

Date

Time (EST)

Event

location

details

Sa Su

Sept 16-17

All day

Florence

Fri-Sun

Sep 20-22

All Day

Pre-Production Design Review for the Vertex ALMA Antenna

Duisberg, Germany

Thurs-Fri

9-10 November 2006

all day

ALMA Board Meeting

Madrid

TBD
Upcoming Meetings
Complex Molecules in Space: present status and prospects with ALMA
May 8 to 11, 2006, Fuglsoecentret, near Aarhus, Denmark
61st OSU International Symposium on Molecular Spectroscopy
, June 19-23, 2006, Columbus Ohio USA
The fate of gas in galaxies
July 12-14, 2006 ASTRON, Dwingeloo,
IAU XXVI General Assembly
Prague, 14-25 August 2006
*Sessions of Particular ALMA Interest*
A Summer School on "(Sub)Millimetre Observing Techniques"
Victoria, BC, Canada 14-17 August 2006
Fifth IRAM Millimeter Interferometry School
October 2-6, 2006 Grenoble, France
Science with the Atacama Large Millimeter Array (ALMA) II
November 13-16; Madrid, Spain
Astrophysical Masers and their Environments
2007 March 12-16, Alice Springs, Australia 50th anniversary of the founding of NRAO
Delayed
NRAO wishes to remain 49 a bit longer...; Charlottesville, Virginia See also
NAASC listing
--
AlWootten
- 01 Aug 2006