Date: 12 July 2005 Time: 4:00 pm EDT ( 2:00 pm Socorro, 1:00 pm Tucson) Phone: Phone: (434)296-7082 (CV SoundStation Premier Conference phone 3rd floor). No Video planned. Past minutes, etc on MMA Imaging and Calibration Division Page
News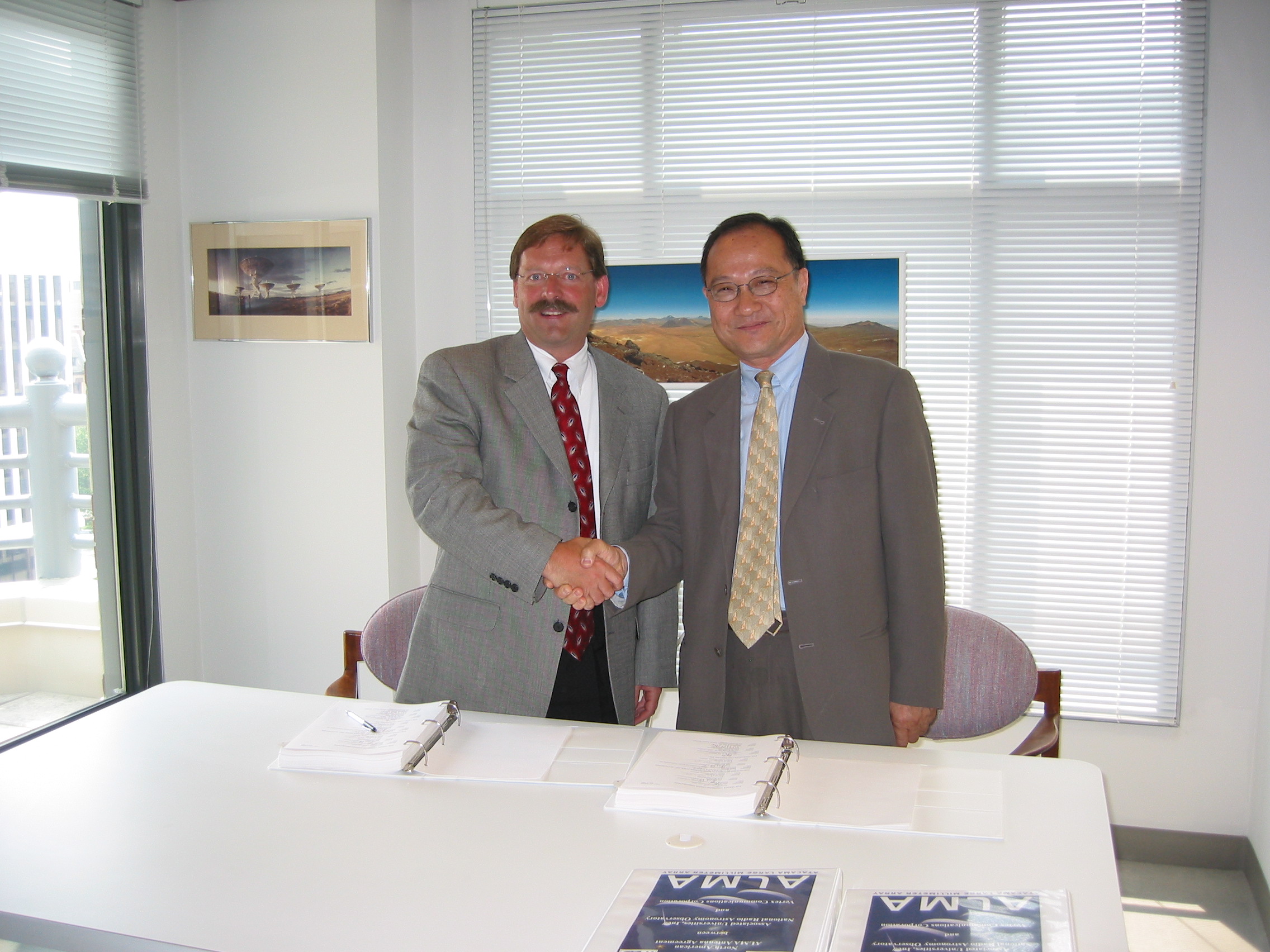 NRAO Director Fred Lo and General Dynamics/C4 Systems Vice President Chris Marzilli sign a contract for up to 32 ALMA antennas, 2005 July 11 at AUI world headquarters in Washington, D. C.
Antenna news -- TBD Kickoff meeting 28-29 July Dallas.
We delighted to announce that Jeff Zivick has agreed to take up the post of North American Antenna IPT Lead. Jeff started his new position on Monday, July 11, the same day that we signed the antenna contract.
Congratulations to Jeff on his new role and excellent timing!
Characterization -- We need to get updated results posted -- Wootten
Upcoming campaign -- Otarola
Subarrays -- An option has arisen whereby the patch panel could accommodate any or all of the antennas available. See Subarray Wiki
Topics
Rebaselining. A number of issues arose for the Science IPT and others. Management done this am.
Frequency Switching -- A document: Frequency Switching on ALMA SCID-90.00.00.00-012-A-SPE is available at almaedm.
Nutator Requirements discussion continues. Comments to almaedm not wiki please. Finalize the Nutator Plan by 1 August.
Early Science Modes: Our proposal for the TFB mode is a wideband mode for e.g. continuum simultaneous with a narrowband mode for e.g. a spectral line. Please comment; we don't have to be limited to one but without a specific group there could be nearly an infinite number. See ALMA Early Science Modes SCID-90.00.00.00-011-A-LIS.
Configuration studies. Conway and Holdaway have produced a draft of the new configuration. Please comment.
Science Corner:
GoreTex
membrane Results (see
RfMembrane
):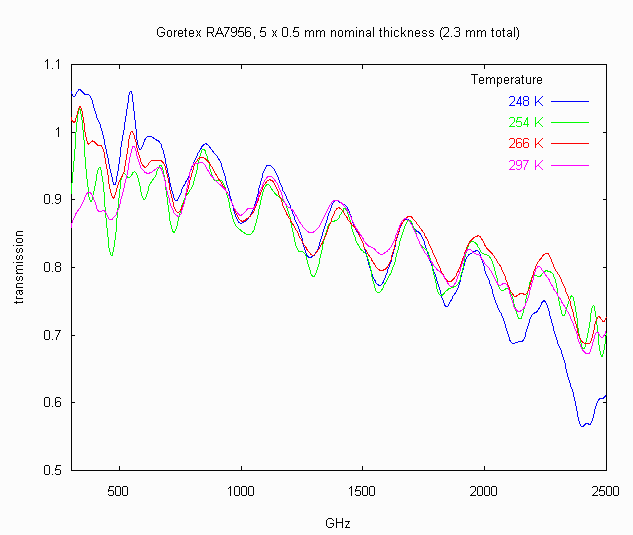 a) Science shall determine one or more alternate solutions acceptable for RF. This can be done by buying samples and testing or discussing with observatories
b) FE should be in the loop to check the mechanical charactreistics of the material and estimate which and how the solution proposed represents a valid choice for mpunting or may pose possible problems.
c) get one or more of the acceptable samples of the material and mechanical test it in one of the Antennas at the ATF.
A thin RF-transparent membrane (Goretex) will cover the aperture through which the RF beam enters the cabin at the vertex hole. The RF transparent membrane will be tilted at an angle of 5 degrees from a plane perpendicular to the boresight axis. The orientation of the 5 degrees inclination shall be settable in steps of 45 degrees in relation to the elevation axis. The change in orientation may be achieved by unbolting and refastening the mechanism from inside the receiver cabin. The mounting of the membrane shall not vignette the free optical space. The characteristics of this membrane are defined by ALMA. The baseline specification is:
Type Radome Material (Goretex))
Fabric Type: RA 7956 / RA7957
Material 100% fluoropolymer
Thickness up to 1.5 mm
The characteristics will be confirmed by ALMA and the Radome material will be provided by ALMA as specified by the Statement of Work. The membrane shall be protected by a remotely operated metallic shutter, when the receiver is not in use and in case of precipitation (snow, rain, hailstones). Precipitation water entering through the vertex hole in the BUS and reaching the membrane and the space above the cabin shall be evacuated by opening and/or drainage pipes. The drainage system shall be effective also with the Antenna pointing at Zenith.
Calendar
Events of Interest
(see also Al's
ALMA Biweekly Calendar
)
New! ALMA Calendar testing
| | | | | | |
| --- | --- | --- | --- | --- | --- |
| 2005 | | | | | |
| Day | Date | Time | Event | location | details |
| Weds | July 13 | 1500UT | ASAC Telecon | Telecon | |
| Mon-Tues | July 26-27 | all day | System Requirements Review | Cville | |
| Thurs-Fri | July 28-9 | all day | Antenna Kickoff Meeting | Dallas | |
| Thurs | Aug 4 | 1500UT | ALMA Board telecon | Telephone | |
| Friday | August 26 | 2-3pm EDT | ANASAC Telecon | 877-874-1919 PC=185064 | |
| Thurs | Sep 22 | 1500UT | ALMA Board telecon | Telephone | |
| Friday | October 28 | 2-3pm EDT | ANASAC Telecon | 877-874-1919 PC=185064 | |
| Tues-Weds | Nov 1-2 | 1500UT | ALMA Board Meeting | Chile | |
| Thurs | Dec 8 | 1500UT | ALMA Board telecon | Telephone | |
Upcoming Meetings
Star Formation in the Era of Three Great Observatories
July 13-15, 2005 in Cambridge, Massachusetts
Astrochemistry throughout the Universe: Recent Successes and Current Challenges 2005 August 29 - September 2; Asilomar, California
Protostars and Planets V 24 - 28 October 2005 Hilton Waikoloa Village, The Big Island, Hawaii
Mm/submm Techniques and Science session, at the
URSI General Assembly
2005 October 23-29, New Delhi, India
"IR Diagnostics of Galaxy Evolution"
. 14-16 November 2005, Pasadena, CA 50th anniversary of the founding of NRAO October 15-19, 2006; Charlottesville, Virginia ALMA November 13-16; Madrid, Spain See also
NAASC listing
--
AlWootten
- 12 Jul 2005