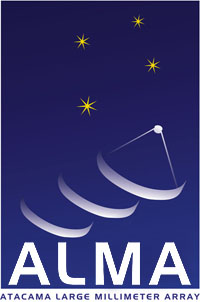 previous meeting
2010-11-24 14:30 UT
Note time changes in your area.

Note: C. Wilson points out line noise may be muted by pressing *6 which works thru the call center.

Duration: 1 hr

Toll Number: 1-203-480-8549

USA Toll Free Number: 866-600-8836

Passcode: 3283890

Leader: Hills, Peck, Wootten, Testi, Saito


Attendees:
Topics
1 Old Business The enhanced
Agenda
from the last meeting is available. Science IPT
notes
from the last telecon are not available.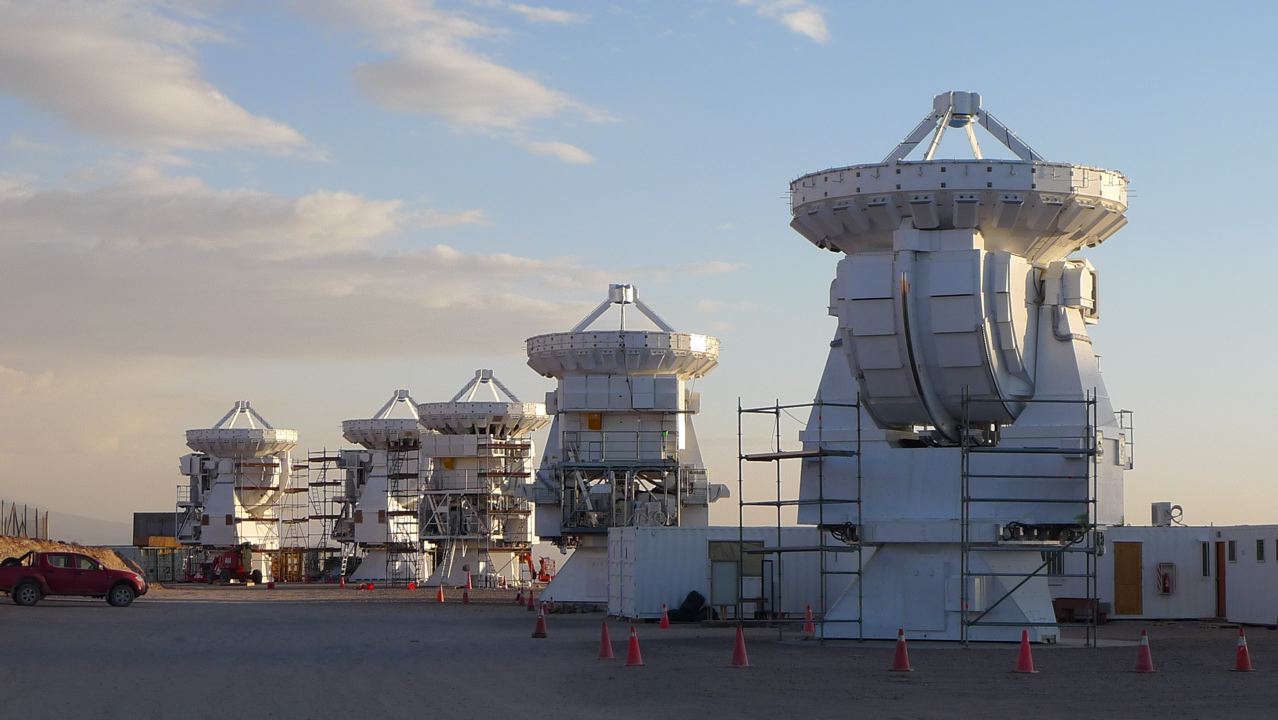 Five ALMA 7m antennas being built by Mitsubishi at the OSF, seen in this photo from Norikazu. Image courtesy ALMA (ESO/NAOJ/NRAO). See
other images and animations
.
New Business--Project news/updates.(Hills, Peck)

For a recent summary see October 2010 Science section of ALMA report
Outcomes of the Reviews. See collection.
Science_Milestones_-_31Oct2010.pdf: Science Milestone update; end of October
AAER, Board meeting and the Call for Proposals for Early Science
Configurations for Early Science

A compact configuration has been designed by F. Boone
ES Spectral modes

Commissioning news. Eight antennas remain available after a move of DV08 to the AOS at pad T703. The array now consists of DV02 in pad J504; PM02 in pad T701; DV03 in pad N605; DV04 in pad T702; DV05 in pad J505; DV06 in pad T704; DV07 in pad J510; DV08 in pad T703. We are calling this the "Initial Commissioning Array" configuration. This allows good tests of e.g. antenna performance at different elevations. We expect to have 9 antennas later in the year; 16 by May.

Change Requests and other technical items.

260. Relaxation of the Band 3 polarization efficiency specification

CRE Number : ALMA-40.02.03.00-0662-A-CRE Relaxation of the Band 3 polarization efficiency specification (ALMA-40.02.03.00-0662-A-CRE) - APPROVED 23 November 2010 with the following wording:

Relaxation is sought to the FE Requirement [FEND-40.00.00.00-00226-00 / AT] which requires that the polarization efficiency of the tertiary optics system shall exceed 99.5% for all ten bands. The proposed relaxed requirement (for Band 3 only) is 99% (-20 dB cross polarization in the integrated sense.) The peak cross polarization for the cold cartridge alone (without warm optics), [FEND-40.02.03.00-00298-00 / T], is sought to be relaxed to -21 dB instead of the presently specified -23 dB.
Action item: Eduardo Pizarro to modify CRE and gather relevant signatures
Action item: Band 3 team to provide information as the cause of the variable cross polarization performance - 30 Nov (one week) due date.
Employment

JAO DSO Support Astronomer positions. Proposal Handling Team Lead interviews scheduled.
ESO:
NRAO: Advertisement for postdoctoral positions has appeared in AAS Newsletter.
NAOJ: Advertisement for postdoctoral positions has appeared in AAS job register since Nov 1st.
University of Cambridge: Two posts to work on algorithms and software for radio astronomy with applications to ALMA and the SKA Research Associate: Radio Astronomy Algorithms and Software (two posts):

Astronomer Outreach: ALMA News. JAO ALMA Webpages. JAONewsletter No 6. NRAO eNews ESO Newsletter No 16 NAOJ News. NRAO ALMA Calendar
Current SYSE-80.04.01.00-004-Q-DWG.pdf: ALMA System Diagram Rev Q

Current IPS attached

Directories
Project Scientists
North America
Europe
East Asia

Shinya Komugi joined CSV since Nov. 1st.
ALMAJ Users Meeting is held on Jan 13-14 at Mitaka, Tokyo. Now program is almost fixed.

ASAC Report, Board Meeting
Bojan Nikolic/John Richer -- WVRs
Lars-Ake Nyman -- eSSR
Steps toward Early Science
Science Corner
Calendar
Next meeting is on Dec 15th (14:30 UT). Jan 19th 2010 for the following month.
Events of Interest
(see also Al's
ALMA Monthly/Biweekly Calendar
)
2010

Day

Date

Time

Event

location

details

Nov 22

Date for decision on ES

Chile

Dec 15

Sci IPT

telecon
Upcoming Meetings
The Impact of Herschel Surveys on ALMA Early Science
Garching, November 17-19, 2010
Observing with ALMA--Early Science
IRAM, 29 Nov - 1 Dec 2010
217th AAS Seattle, WA
Observing with ALMA - Special Session- January 12, 2011 2:00 PM
15-17 Jan 2011 Workshop
ALMA: Extending the Limits of Astrophysical Spectroscopy in Victoria
The Molecular Universe
May 30 - June 3, 2011 Toledo, Spain --
AlWootten
- 2010-11-16