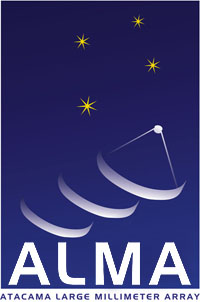 previous meeting
next meeting
Note: C. Wilson points out line noise may be muted by pressing *6 which works thru the call center.
Duration: 1 hr
USA Toll Free Number: 877-874-1919
Toll Number: +1-203-320-9891
Passcode: 185064
Leader: Al Wootten

Attendees:
Topics
A view from the newly completed holography tower No. 2 toward the Operations Support Facility. Seven Vertex antennas and four Mitsubishi Electric Company (Melco) antennas (left foreground) are now on the site, with six visible in the panorama above. Four others are erected in the Vertex Site Erection Facility (SEF), the building in the left background. Nearby two Vertex antennas are being tested just outside the building. Inside the SEF, one antenna awaits assembly. Four Melco antennas lie in front of the Vertex complex. In the immediate left foreground, an area is being prepared for the first AEM antennas, expected to arrive from Europe soon. To the right is the Operation Support Facility Technical Building complex, now being readied for the arrival of the first of the production antennas. A transporter will move the antenna, expected to be Melco No 2 (second from right of the four in the picture) to the courtyard at the OSF TB, center right. The transporters can be seen in their shelter, to the right and above the courtyard. See
other images and animations
. See
other images
and
transporters
.
New Business--Project news/updates. Current Schedule View (Hills, Peck)
Commissioning Scientists have arrived in Chile - Stuartt Corder, Antonio Hales and Tsuyoshi Sawada are settled; Corder and Hales turno at OSF.
ALMA Status Report R. Hills.

Science milestones for ALMA These are the updated new Science milestones. Comments please.
Feedback from Board
Annual ALMA External Review occurs 9-11 Dec.
Site: Installation of foundations continues. 27 high site pads have received structural concrete. A plan to populate these for CSV and beyond beginning with the ACA pads is being developed.
Antennas: Melco No 2 in shared use with AIV. Conditional acceptance expected in Dec. Vertex No 1 has completed Surface tests: metrology systems being worked on. Acceptance likely to be in February 2009.
Front Ends: The first "engineering model" has been installed in Melco No 2. Delivery - the second "engineering model" front-end is under test in Taiwan and should be shipped to Chile by end of 2008.
Back Ends: Production is rolling along and looks good on all areas except the LO where delays are still mounting. The Master Laser delivery has slipped again. We need to get development of the alternative underway as a matter of urgency, but the topic is rather complicated. See Alternative_LO_Development.pdf but be warned that this is only my view of it. Comments welcome.
Correlator: Assembly of the first quadrant at the AOS has been completed and a full set of tests passed succesfully.
Software: Overall external review going on now for 17-23 Nov.
Systems: New group under Nick Whyborn now active. Developing detailed procedures for testing and verification of systems requirements.
Schedule: The schedule review is in full swing.
ASAC Matters.

Report delivered to Board.
Face-to-face meeting in Chile 28-29 Jan.
Panel to prepare ALMA Development Proposal has had several telecons, draft report written.

Astronomer Outreach:

New

JAO ALMA Webpages. ESO Newsletter No 15 NRAO eNews ALMA News. NAOJ News. NRAO ALMA Calendar
Directories
Science IPT Group Activity Reports
Please include your Group Activity Report here (How to Enter Your Report), or email it to AlWootten
Project Scientists
Science IPT

Change Control Board items Nothing major that is new here. Lots of details on ICD's, etc.,being tidied up. (Hills)

Several problems with the site, including the levels of the pads in the central cluster and the schedule for delivery of fully operational pads. It is now proposed to use the ACA pads with 12m antennas for the later phases of commissioning and the start of Early Science. See ACA_opt1.pdf
Band 3 Receiver Noise Temperature Specification Following discussions at ASAC it is proposed to accept the new specification on the individual channels (higher noise but flatter) but not to agree to the spec applying only to the average of the two polarizations and not to accept the high value (4K) for the noise added by the warm optics. There is a fair amount of new discussion on edm. Read and comments please.
Configuration of Central Cluster

ATF: (Laing)

Summary. ATF will operate thru 20 Dec, if at all possible. R. Laing will take over scheduling visiting science staff on Sept 1.
Sci IPT at the ATF Checklists, Progress Reports, OSF and ATF.
CIPT Wiki Daily ATF reports.
AIV wiki OSF/AIV Daily log.

OSF (Peck)
| | |
| --- | --- |
| 2008 | |
| Week | Event |
| Nov 19 | Mangum, Corder. Hales |
Next meeting is on Dec 17th (14:30 UT). Jan 20th for the following month.
Commissioning and Science Verification

Plan.
A request for additional manpower has been approved. Advertisements are out. Please inform interested parties.
A detailed study of the thermal and RF properties of various designs of calibration load has been released. It is rather large Load_models.pdf. A decision is now needed (rather urgently) on what design(s) to take forward in constructing a prototype(s) prior to full production.
Pointing Design document now drafted. Waiting for release of metrology system details to complete.
Calibration Plan: Current version of the calibration plan and associated documents ("examples", "roadmaps", "matrices", etc.) posted. Comments welcome.
Calibration Examples: The "meat" of the Calibration Plan. Review of these documents nearly complete, some need updates.
Ancillary Calibration Devices:

Documents which describe the weather station and temperature profile technical specifications have been developed.
Initial purchase of (P,T,RH,Ws,Wdir) measurement devices has been made by Leonardo.
Specification of site infrastructural components (enclosure, tower, etc.) have been made and sent to Site IPT.

Refractive Bending and Delay Calculations:

Analysis complete. See wiki page for details.
Recent analysis of Yan refractive bending model suggests that it is limited (using sla_refro as benchmark).
Worked with Pat Wallace to implement improvements to sla_refro, including incorporation of Liebe atmospheric model.
Recommendation is to use sla_refro for refractive bending (note: currently used in M&C software in use at ATF).

ALMA Calibration Device (ACD): Several reviews (involving acronyms that I won't repeat) of ALMA Calibration Device (ACD) over past month point to both good and bad:

Good: Robotic arm tests suggest that positioning between bands will be as fast as 5-6 seconds, rather than the anticipated 9 seconds.
Bad: Frontend IPT unilaterally changed specification of solar filter to exclude use at Bands 1 and 2. Change not approved, and justification for change flawed.
This took place and there are lots of interesting presentations at that link.
This includes an update on the work that Bojan has been doing on Phase Correction.
Robert Lucas -- eSSR
eSSR had its first meeting this month. (2008-11-12).
working on version 2.1, adding some projects, cleaning up.
summary spread sheet almost completed.
Some items to be added - more polarization cases, pulsars, is there anything on fine-structure in hot haloes using S-Z?
Frank Lovas is currently visiting the NAASC.
Science Corner:
arXiv:0810.3109
Far-infrared spectra of hydrous silicates at low temperatures - Providing laboratory data for Herschel and ALMA Authors: H. Mutschke (1), S. Zeidler (1), Th. Posch (2), F. Kerschbaum (2), A. Baier (2), Th. Henning (3) ((1) Astrophysikalisches Institut, Jena, Germany, (2) Department for Astronomy, University of Vienna, Austria, (3) Max-Planck-Institut fuer Astronomie (MPIA), Heidelberg, Germany)
Calendar
Events of Interest
(see also Al's
ALMA Biweekly Calendar
)
2008

Day

Date

Time

Event

location

details

Nov 12-14

ALMA Board f2f

OSF

Nov 17-19

Software Review

Santiago

Nov 19

Sci IPT telecon

Telecon

Dec 9-11

ALMA Annual External Incremental Review

OSF

Dec 17

Sci IPT telecon

Telecon

Jan 20

Sci IPT telecon

Telecon

Jan 26-27

CASA Tutorial

f2f Santiago

Jan 28-29

ASAC f2f

San Pedro and OSF
Upcoming Meetings
URSI/NA Meeting
Jan 5-8, Boulder
Abstract Book of ALMA session
--
AlWootten
- 17 Nov 2008