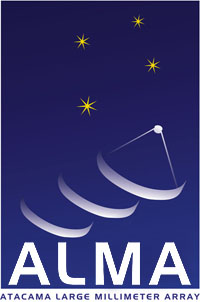 previous meeting
next meeting
Duration: 1 hr
USA Toll Free Number: 877-874-1919
Toll Number: +1-203-320-9891
Passcode: 185064
Leader: Al Wootten
Topics
DUSTY04
collection of papers relevant to ALMA.
New Business--Project news/updates (Wootten, Wilson, Kawabe)
Milestones--09.2.17.2 Complete draft ICD between Science and Site Planned
Subarrays--by frequency, four for ALMA, two for ACA independently tuned
Frequency Switching -- The commentary on the wiki page and in other places have been consolidated into a document: Frequency Switching on ALMA SCID-90.00.00.00-012-A-SPE which is open for discussion at almaedm.
New personnel: NA Postdoc hired--Tony Remijan. Shigehisa Takakuwa (SMA/CfA) will join ALMA-J project office from July to work with us. Juan Bravo will replace Diaz as Roberto Rivera's assistant at the site.
Early Science Modes: Originally the plan was to implement only modes which were available on the single baseline correlator at the ATF on the ALMA correlator in Chile. However, the tunable filter bank will almost certainly be implemented on the Chilean correlator, though not at the ATF. Therefore we need to define modes which we would like to have available both for testing and for observing in the early phases of Chilean operations. Please see the document Baseline Correlator + TFB Specs for details. One possibility is a wideband mode for e.g. continuum simultaneous with a narrowband mode for e.g. a spectral line. Please comment; we don't have to be limited to one but without a specific group there could be nearly an infinite number. See ALMA Early Science Modes SCID-90.00.00.00-011-A-LIS.
Total Power Receiver: In The Beginning, there will be normal ALMA receivers on the total power antennas. Eventually we will want receivers with improved stability. There are several possibilities; comment please.

Normal ALMA receiver modified slightly (e.g. detuned).
Correlation Receiver. This would be a special receiver. It should operate in a predefined 'Continuum Band' which we should define in a spectral place as linefree as possible. The design would probably be somewhat similar to that of the WVR correlation receiver design from Cambridge.
Windowed Correlation Reciever. If in a band there is no suitable window, the masking against contaminant line emission could be achieved in the correlator. Correlation done this far down the chain could be advantageous in that it could remove other sources of instability. The price would be complexity. I would imagine that one would only puruse this option should suitably linefree windows not be available.

ACA correlator PDR -- ALMA-J will hold the ACA correlator PDR on 30-31 May. Robert Laing will represent the Science IPT. In the ACA Correlator PDR folder, you will find the CIDL and a format for the Compliance Matrix as well. I hope you have a chance to look at them. Baseline Correlator + TFB Specs
Nutator Requirements discussion has begun. Comments to wiki page please.
Group Activities (all)
Next meeting is on June 14th (14:30 UT)
Science IPT Group Activity Reports
Please include your Group Activity Report here (How to Enter Your Report), or email it to AlWootten
1 Science IPT - IPT meetings, CVR Review, Rebaselining Options,
ASAC Report
,
Operations Plan Vers A
, New Band 5 Receivers/OTF Interferometry and the Board Meetings 4-9 April 2005. 2 ASAC news
ASAC Report
3 Antennas 4 Astronomer Outreach: NRAO
Newsletter
ESO
Newsletter
. NRAO ALMA
Calendar
Emerson/Laing -- Instrument Scientists
WVR Review (Laing)
ACA Corrleator Review (Laing)
Nutator design (Emerson)
Notes from configuration redesign telecon.
Alison Stirling -- Phase calibration
Turbulence simulations of dry and wet phase fluctuations during the daytime at Chajnantor
Robert Lucas -- SSR
Meeting on 2005-5-11: Minutes
CDR3 is planned for early June. Release R3 plans: testing interferometry software in simulation mode.
Michiel Hogerheijde -- DRSP
Mark Holdaway/Steve Myers -- Imaging
See NRAO Algorithms Working Group Minutes "Pointing corrections in interferometer calibration and imaging" discussed 13 April.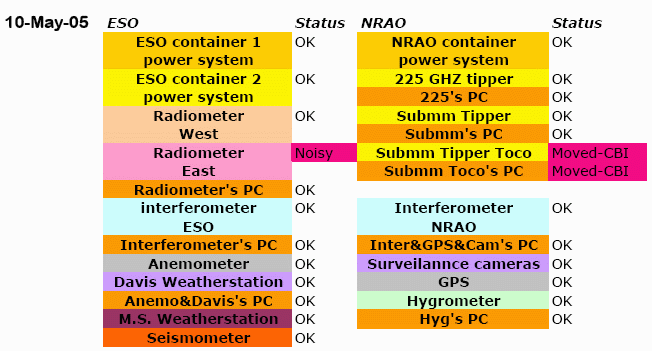 The meteorological instruments group was to define the 'ancillary devices'; an old draft of that is in almaedm at: http://tinyurl.com/5ns7e which has been updated by JohnRicher (see Calibration item above).
The second task was to define the interface of the ancillary devices to the site. The current draft of that document is in almaedm at: http://tinyurl.com/43gvn
Science Corner: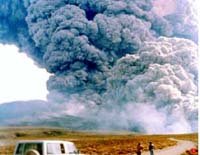 Please see:
El Mercurio article
An unusual eruption registered at dawn Cinco de Mayo at Láscar volcano, located about 430 kilometers to the west of Antofagasta and 35 km East of the town of San Pedro de Atacama near the ALMA site, to its south. Lascar expelled ashes and columns of smoke by a period of 30 minutes between the localities of Camar and Talabre. The eruption was detected at 03,03 hours by the satelite of the University of Hawaii located at a base established at Camar, a reason why it was not perceived by the community of those towns. According to the director of the Regional Office of Civil defense and Emergency (Oremi), Hernán Vargas Canivilo, the volcanic activity was superior to that which normally usually registers....The biggest eruption of the Láscar happened in April of 1993 and figures third greatest in the history of Chile. In that eruption, the volcanic activity lasted a day and means, where the ashes caused damage in the north of Argentina and arrived over Brazil, which caused interest in the international the scientific community. SMA reports: 3C454.3 continues to brighten. It is now a wopping 25 Jy at 342 GHz
Calendar
ALMA Events of Interest
(see also Al's
ALMA Biweekly Calendar
)
2005

Day

Date

Time

Event

location

details

Tuesday

April 19

14:00UT

Science IPT Videocon

USA: 877-874-1919 World: +1-203-320-9891

Tuesday

April 19

15:00UT

ASAC Telecon

USA: 877-874-1919 World: +1-203-320-9891

Tues

April 26

1500UT

ALMA Board telecon

Telephone

Change 3/9/05

Friday

April 29

1400EDT

ANASAC Telecon

877-874-1919 PC=185064

Tuesday

May 3

14:30UT

ASAC Telecon

USA: 877-874-1919 World: +1-203-320-9891

Wednesday

May 04-5

all day

WVR PDR

Gothenburg, Sweden

Wednesday

May 04

2-3pm EDT

NAASC

Organizational Meeting

CV-ER311 (434 296-7082)

Tuesday

May 17

14:30UT

Science IPT Videocon

USA: 877-874-1919 World: +1-203-320-9891

Thurs

May 26

1500UT

ALMA Board telecon

Telephone

Mon

May 30-31

all day

ACA Correlator PDR

Tokyo

Mon-Thurs

May 29-Jun 2

all day

AAS Minneapolis

ALMA booth part of NRAO booth

Sunday

June 12

1-5pm EDT

ANASAC Face-to-Face

CfA

Tues-Fri

June 21-24

all day

Bands 4 & 8 PDRs

Tokyo

Tues-Weds

June 21-22

1500UT

ALMA Board Meeting

The Hague, Netherlands

Friday

June 24

2-3pm EDT

ANASAC Telecon

877-874-1919 PC=185064

Weds-Thurs

July 6-7

all day

Front End deltaPDR

Garching

Thurs

Aug 4

1500UT

ALMA Board telecon

Telephone

Friday

August 26

2-3pm EDT

ANASAC Telecon

877-874-1919 PC=185064

Thurs

Sep 22

1500UT

ALMA Board telecon

Telephone

Friday

October 28

2-3pm EDT

ANASAC Telecon

877-874-1919 PC=185064

Tues-Weds

Nov 1-2

1500UT

ALMA Board Meeting

Chile

Thurs

Dec 8

1500UT

ALMA Board telecon

Telephone
Upcoming Meetings
IAU Symposium 227 Massive Star Birth: A Crossroads of Astrophysics
May 16-20 2005, Acireale, Italy
Astrobiology and the Origins of Life
Hamilton, Ontario, Canada May 24-28.
Workshop on submillimeter wavelength astronomy
in Cambridge (JUN 13-16).
Star Formation in the Era of Three Great Observatories
July 13-15, 2005 in Cambridge, Massachusetts
Astrochemistry throughout the Universe: Recent Successes and Current Challenges 2005 August 29 - September 2; Asilomar, California
Protostars and Planets V 24 - 28 October 2005 Hilton Waikoloa Village, The Big Island, Hawaii
Mm/submm Techniques and Science session, at the
URSI General Assembly
2005 October 23-29, New Delhi, India
"IR Diagnostics of Galaxy Evolution"
. 14-16 November 2005, Pasadena, CA 50th anniversary of the founding of NRAO October 15-19, 2006; Charlottesville, Virginia ALMA November 13-16; Madrid, Spain See also
NAASC listing
--
AlWootten
- 05 May 2005