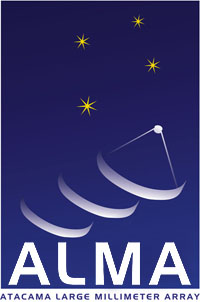 previous meeting
next meeting
2007-1-17 14:30 UT

Please check your local time; it may have changed!

Duration: 1 hr
USA Toll Free Number: 877-874-1919
Toll Number: +1-203-320-9891
Passcode: 185064
Leader: Al Wootten

Attendees: Darrel Emerson, Tony Remijaqn, Al Wootten, Jeff Mangum, Michiel Hogerheijde, Jeff Mangum, Todd Hunter, Crystal Brogan, Robert Lucas, Chris Wilson, Baltasar Vila-Vilaro, Richard Hills, John Richer, Antonio Hales. Robert Laing in ESO review meetings.
Topics

VertexRSI
Site Erection Facility on 2007 Jan 5. See
other images and animations
.
New Business--Project news/updates (Wootten, Laing, Kawabe)
Standard documents
JAO Project Scientist Turno now in effect transitioned to Wootten. Project Scientist News.
Directories

Science IPT Directory All contributors to ALMA Science IPT (Sept06). This was recently updated. Please send AW any corrections or changes. * Please update your information for the new edition.
ALMA Directory ALMA Directory v3.0
ALMA JAO Directory ALMA JAO Directory
Science IPT Group Activity Reports
Please include your Group Activity Report here (How to Enter Your Report), or email it to AlWootten
Project Scientists
Science IPT -

Nutator SRR in Charlottesville 22-23 Jan 2007
"PSI/ATF Workshop" The dates are 24 and 25 of January 2007. Agenda
Face-to-face meeting in 2007 Q1? At AOC?
Antenna Spec Changes: ACA 7m Discussion
Schedule, etc. Current Science IPT Schedule

Operations Working Group documents are available. Status Report. Development Wish List section for written expansion or comment. These are items whose development was postponed for lack of funding, mostly. Within the next year or so, a document will be written to develop these ideas and others. At the meeting, other items were discussed, including

Advanced WVRs with pointing correction capability
Increased data rates (especially desirable for use with new correlators)
Multibeam receivers.

Astronomer Outreach: NRAO Newsletter ESO Newsletter NAOJNews. NRAO ALMA Calendar
ARCs.
Group Activities (all)
Next meeting is on Feb 21st (14:30 UT). 21 March for the following month.
Emerson/Laing/Vila-Vilaro -- Instrument Scientists
PSI at the ATF: Schedule, progress wiki. Daily Logs

Kudos to Darrel and his merry men for the outstanding job they have done with holography and the preparation for using it on the production antennas.

During the ACA Correlator CDR the possibility of SIMULTANEOUS use of the eBLC and ACA Correlators was suggested. An AI for the Science IPT was set to study the scientific merit of such mode. It would be interesting to start a Discussion on this (BVV).

Robert, Baltasar, Al, Todd and Darrel will explore the possibilities during next week's meetings.
Conway, Holdaway -- Configuration Group
The Technical specifications and SOW for the IFB for the AOS Road network design have been contracted. A contractor will be on the site 7 August to begin design. A design for road and fiber network at the high site is expected in September. Design of the extended array should occur during October-November.
New Configuration submitted for approval Passed CCB.
Y+ configuration now under design by Holdaway.
Proposed ACA Configuration approved.
ArrayCenter shows photos of the region of the center of the Array.
Please see the attached image, which has the roads Don sent me and the latest configuration I am working with. Several of these antenna locations were fixed since the visit to Chile. I am ignoring the antennas displaced from the roads on the north arm because there is nothing there which presents a problem. Extended configuration sites as of 2007 Jan 16.

Position 1: this has not been moved since the visit to Chile, but we don't have a road design to it.
Position 2: there was a road design to this spot in the very first roads M3 provided me like in September 2006. We need it, as otherwise there is a hole in the UV coverage at about 6km -- this antenna forms baselines with the cluster of antennas just about 6 km north on the North arm, and these baselines fill in the hole. Do we need this road? Yes, otherwise long after I've left NRAO, I'll be famous among users of ALMA's Y+ array for the "Holdaway Hole", and I don't want that.
Position 3: I don't know where the road went for this one, I thought we had a road there before.
Position 4: I thought we had made provisions for a road down here while we were in Chile.
Calibration Plan: Current version of the calibration plan and associated documents ("examples", "roadmaps", "matrices", etc.) posted. Comments welcome.
Calibration Examples: The "meat" of the Calibration Plan. Review of these documents nearly complete.
Ancillary Calibration Devices: Documents which describe the weather station and temperature profile technical specifications have been developed. RFQ packets going out to vendors, with likely responses by end of January 2007. NOTE: I need suggested vendors for the temperature profiler.
Robert Lucas -- SSR
Michiel Hogerheijde -- DRSP
I am nearly complete with getting a group of ~10 reviewers together from ASAC. Later this week I will post the DRSP 2.0 projects on a secure website, along those projects from version 1.1 that remain unchanged or for which I have not received a response. The reviewers will each assess 5-10 projects, and communicate their findings directly to the authors. This also includes the projects for which no response was received, to double check that they indeed remain valid as-is.
This process will be completed by February 15. The authors will then have 1 month for their replies. By April 1 I will post the DRSP 2.0 on the web along with derived statistics.
Commissioning and Science Verification
Mark Holdaway/Steve Myers, Reid -- Imaging
Splatalogue.net became active this week after setting up the database in Manchester and putting out some fires with the database (i.e. server crashing, etc.)
AJMK and TR now both have access to the Splatalogue database in Manchester.
The database mirror has been set up at NRAO-CV.
AJMK is working on the ~200 edits sent by TR for resolving the QNs in the database.
Science Corner:
Calendar
Official JAO Calendar
New!!
ALMA Events of Interest
(see also Al's
ALMA Biweekly Calendar
)
| | | | | | |
| --- | --- | --- | --- | --- | --- |
| 2006 | | | | | |
| Day | Date | Time | Event | location | details |
| | Jan 16-17 '07 | all day | Transporter FDR | | |
| We | Jan 17 | 1430UT | ALMA Sci IPT Telecon | Telecon | |
| | Jan 18 | | ALMA Board Telecon | Telecon | |
| Mo Tu | Jan 22-23 | all day | Nuttor SRR | | Cville |
| | Jan 24-5 | all day | PSI Review | | AOC |
| | Jan 30-1 | all day | AEM antenna PPDR | Mestre | |
| | Feb 6-7 | all day | B9 Cartridge CDR | | |
| Wed | Feb 7 | 1430UT | ASAC Telecon | Telecon | |
| Thu | Feb 15 | | ALMA Board Telecon | Telecon | |
| We | Feb 21 | 1430UT | ALMA Sci IPT Telecon | Telecon | |
Upcoming Meetings
Asian Radio Astronomy Winter School
January 22-26, 2007 National Astronomical Observatory of Japan (NAOJ), Mitaka, Tokyo, Japan
OBSERVING PLANETARY SYSTEMS
March 5-8, Santiago
Astrophysical Masers and their Environments
2007 March 12-16, Alice Springs, Australia
Astronomical Spectroscopy and the Virtual Observatory
March 21-23, Villafranca del Castillo, Villanueva de la Cañada, close to Madrid [[http://www.nrao.edu/50][Frontiers of Astrophysics, a Celebration of the National Radio Astronomy Observatory's 50th Anniversary], June 18-21, 2007, Charlottesville.
Transformational Science with ALMA: Through Disks to Stars and Planets
June 22-24, 2007, Cville
North American URSI
meeting July 22-26, Ottawa Astrophysics in the Next Decade: JWST and Concurrent Facilities. September 24-27, 2007, Tucson Arizona See also
NAASC listing
--
AlWootten
- 11 Jan 2007