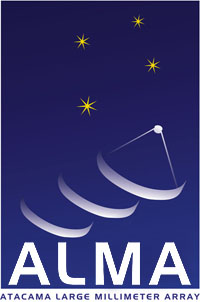 previous meeting
next meeting
*
2010-6-16 14:30 UT
Note 'usual' UT time.
* Note: C. Wilson points out line noise may be muted by pressing *6 which works thru the call center.
* Duration: 1 hr
* Toll Number: 1-203-480-8549
* USA Toll Free Number: 866-600-8836
* Passcode: 3283890
* Leader: Hills, Wootten, Testi, Morita
*
Attendees:
Topics
1 Old Business The enhanced
Agenda
from last meeting is available. Science IPT
notes
from last month's telecon are not available.
Five ALMA antennas in operation at the AOS, seen in this photo taken by Nick Whyborn on 3 June. See
other images and animations
.
New Business--Project news/updates.(Hills, Peck)

For a recent summary see Science_-_April_2010 and Science_-_May_2010
Previous reports for the project as a whole are at ALMA Monthly Reports.
See Science_Milestones_2010May31.pdf for 'the big picture'. Infrastructure stability has been a major problem this month.
As seen above, five antennas were available after a move on 31 May of DV05 to the AOS at pad T701. On 10 June, PM03 was moved to a long baseline at A106 and DV05 replaced it in the compact array at J505. On 15 Jun, PM03 will travel to the OSF for some retrofitting.
Some very good astroholography maps have been made which reveal some structure on the antenna surfaces. See High_res_maps.pdf. The high site the antennas show errors on scales of a meter or so which are larger than expected (although the surfaces generally within spec under typical conditions).
Initial correlator mode tests complete. Most auto and cross-correlation modes are now checked out using few antennas and low data rates. The next step is to incorporate these modes into Scheduling Blocks with 4 or more antennas to simulate Science Observing.
The "single field interferometry" observing mode is considered to be fully working, though data quality evaluation is ongoing as antennas join the commissioining array. Some problems reflected in non-closure errors have been identified. Additional observing modes using the ALMA Observing Tool, such as automated interferometric pointing and baseline measurements, are now beginning testing. These also require 3 or more antennas.
Phase stability of the system: Data seem to show consistently stable phase around, but slightly outside by 30-80%, the 20-300 sec phase drift requirement. The "periodic phase glitch" problem has returned and is now under investigation.
The WVR-based cloud monitor is now in regular testing, taking data to obtain some real-sky experience on how well it correlates with visual cloud cover and with the quality of the astronomical data.
The major step forward during the last two weeks was the installation of software version 7.1. In general this was successful and we are now able to run most of our standard procedures under the new version. The most significant changes are in the control of the focus where elevation and temperature corrections are applied automatically. Some work remains to be done to absorb the resulting changes into our test processes. We are now looking forward to 7.1.1 which will bring more new capabilities including some aimed at reducing the software overheads.
Using five antennas revealed some problems with both software and hardware in the correlator. It is believed that these have been resolved but more detailed checks need to be made. As usual it is extremely important that the full causes of the problems are understood and also why these problems were missed in testing, since this may have implications for what other aspects need to be checked.
We have become concerned about the stability of the pointing parameters. In particular we are seeing drifts in the zero points of the inclinometers on the Vertex antennas which are very large on DV01 and smaller but still significant on the other antennas. These show up as changes in the elevation zero point and the non-perpendicular axes terms.
The biggest problem overall remains the poor level of availability of operational antennas at the high site. The current situation is that we only have two antennas in operation following a power outage on Sunday. The fact that it is so difficult to recover after a relatively short interruption to the power is a very serious issue both for making progress in CSV and for the longer term.

Employment

JAO Commissioning Scientist positions: Gianni Marconi has joined the commissioning team bringing to it his many years experience with astronomical instrumentation, most recently with the VLT instruments on Paranal.
ESO:
NRAO: NAASC positions are still in process.
NAOJ

Astronomer Outreach: ALMA News. JAO ALMA Webpages. JAONewsletter No 5. NRAO eNews ESO Newsletter No 16 NAOJ News. NRAO ALMA Calendar
Current SYSE-80.04.01.00-004-Q-DWG.pdf: ALMA System Diagram Rev Q

Current IPS attached

Directories
Project Scientists
North America

AAS Meeting in Miami. Preparing for ALMA presentations. Versions of these were also presented at the 12th Synthesis Imaging Workshop, which included sessions on the OT, Splatalogue and CASA/simdata
CASCA Meeting.

Europe

Band 5 Workshop in Rome. (Laing?)

East Asia

May 22 public lecture on ALMA by Tatematsu at planeterium at Katsushika, Tokyo here
May 24 New ALMA-J building opening ceremony here
May 23-28 ALMA-J booth at Japan Geoscience Union Meeting
construction video making for JFY 2009
start of the series of introduction of ALMA-J tasks and members in the monthly "NAOJ News" (in Japanese)

ASAC Report, Board Meeting

A Response is pending. Next meeting 13 October

Change Requests and other technical items.

244 Change to Cross Polarization Isolation Specification for Band 6 Cartridges. Last month we favored a process whereby receivers continued to be built with current components and waivered for performance while an effort to incorporate improved horns into the cartridges proceeded, with later cartridges in the line offering improved performance. The alternative is to do the improvements in the development phase, if they were favored over the many other competing development projects.
AIV-2057 Spurious Responses from IF signals above 12 GHz. See attachment below. (Emerson)

Note that the Band 6 electronics covers an IF of 4-12 GHz but owing to noise from the WCA at the low end of the band and performance issues the portion of the band over which specifications are met is limited to 5-10 GHz. The OT and software limit tuning to this range but an expert may tune over any region in the 4-12 GHz band of course. Is this OT restriction appropriate? Should a hardware fix be done?

OT issues (Wootten)

Default Line List for OT. The developers of the OT are requesting from the SciIPT a requested subset of spectral lines that can be passed along with the offline version of the OT. While online, the developers will query the splatalogue database in Charlottesville but the small subset of lines for offline use should be between 15-20,000 lines according to the developers.

Recommendation: that the OT carry along the updated Lovas/NIST list that is in the splatalogue database along with the H, He and C recombination lines and the requisite atomic transitions (ie, CI). This constitutes approximately 14000 spectral lines.

Correlator channel/bandwidth. Currently phase 1 on the OT tells the observer that 2 GHz bandwidths and other bandwidths smaller by a factor of two are available, covered by 4096 channels. I phase 2 the observer learns the truth, that the subband stitching has removed some bandwidth and channels, so that in most modes the bandwidth is 1.875 GHz covered by 3840 channels. The ARC managers would like to hear from us in order to change this.

Recommendation: The OT report the bandwidth and channel complement which will be present in the data leaving the correlator.

31.25MHz modes. The correlator group asked what the priority on these is, as some programming difficulties have arisen.

Recommendation: The modes should be delivered during construction but there is no imminent pressing need for their implementation.

Development. Regions are developing plans for the ALMA Development process. A revision of the Strawman plan included in the NAASC proposal is in process.
Operations Plan Version E. Status presented to Board. Will be sent to Board for November meeting.
Roads on site have been built in a different plan from that reviewed and this has necessitated a revision of the planned location of the central weather station. New_Location_of_Meteorological_Station_5: A new ICD for Science and Site has been drafted. There is still a problem over the location.
Temporary weather station readout here.
Procurement of a temperature profiler for ALMA based on radiometric sounding of the O2 lines under way.
Bojan Nikolic/John Richer -- WVRs
Nikolic's algorithm for cloud detection at the AOS is in use.
PM03 was in moved to provide a longer baseline for several days before being moved back to the OSF for refurbishment. The longer baseline provided useful testing data for WVR-based phase correction
Systematic analysis of WVR testing data is under way.
Lars-Ake Nyman -- eSSR
NSF NAASC/ALMA Ops proposal review, occurring mid July in Chile.
Potential proposal reviewers were solicited for the first call by May 30.
Integrated tests from proposal submission through SB submission, including Helpdesk and mock panel review, are in final stages. Second set of end-to-end testing in Aug/Sept: CfP? to archive
There is a possibility for NA astronomers outside the NAASC to participate in CSV in Chile.
Cloud Monitor
SondeReport2010.txt: Report on Status of ALMA Site Characterization Radiosonde equipment.
Status of phase monitoring interferometer.
Science Corner
ALMA and the First Galaxies
Authors: F. Combes (LERMA, Obs-Paris) Abstract: ALMA will become fully operational in a few years and open a new window on primordial galaxies. The mm and submm domain is privileged, since the peak of dust emission between 60 and 100 microns is redshifted there for z= 5-10, and the continuum benefits from a negative K-correction. At least 100 times more sources than with present instruments could be discovered, so that more normal galaxies, with lower luminosities than huge starbursts and quasars will be surveyed. The high spatial resolution will suppress the confusion, which plagues today single dish bolometer surveys. Several CO lines detected in broad-band receivers will determine the redshift of objects too obscured to be seen in the optical. With the present instrumentation, only the most massive and gas rich objects have been detected in CO at high z, most of them being ultra-luminous starbursts with an extremely high star formation efficiency. However, selection biases are omni-present in this domain, and ALMA will statistically clarify the evolution of star formation efficiency, being fully complementary to JWST and ELTs.
Resolved images of self-gravitating circumstellar discs with ALMA
Authors: P. Cossins, G. Lodato, L. Testi In this paper we present simulated observations of massive self-gravitating circumstellar discs using the Atacama Large Millimetre/sub-millimetre Array (ALMA). ... We find that at 345 GHz (870 $\mu$m) spiral structures at a resolution of a few AU should be readily detectable in approximately face-on discs out to distances of the Taurus-Auriga star-forming complex.
Calendar
Next meeting is on July 21st (14:30 UT). August 18th 2010 for the following month.
Events of Interest
(see also Al's
ALMA Monthly/Biweekly Calendar
)
2010

Day

Date

Time

Event

location

details

Jun 8 - 15

12th Synthesis Imaging Workshop

Socorro, NM

Jun 16

Sci IPT

telecon

Jul 13-18

Chile

July 21

Sci IPT

telecon

Aug

ALMA System Review III

TBD

Oct 7-8

CSV Status Update

Chile

Oct 11-12

Chile

Oct 13-14

ASAC f2f

Santiago

Oct 25-28

Annual ALMA External Review

Chile

Nov 10

Observatory Readiness Review

Chile

Nov 16-18

ALMA Board Meeting

Chile

Nov 22

Date for decision on ES

Chile
Upcoming Meetings
WORKSHOP: SCIENCE WITH ALMA BAND 5 (163 - 211 GHz)
, Osservatorio Astronomico di Roma, May 24 - 25, 2010
Scientific Opportunities for New Insstrumentation
SOFIA Asilomar 2010 Workshop, June 6-8 Asilomar
Synthesis Imaging School
, June 8-15, Socorro.
Molecules in Galaxies
26-30 July 2010, Oxford UK
Stormy Cosmos: The Evolving Interstellar Medium: Recent Progress from Space IR/Submm
1 - 4 November 2010 Pasadena, CA Hosted by the NASA Herschel Science Center, Spitzer Science Center
The Impact of Herschel Surveys on ALMA Early Science
Garching, November 17-19, 2010
15-17 Jan 2011 Workshop
ALMA: Extending the Limits of Astrophysical Spectroscopy in Victoria
The Molecular Universe
May 30 - June 3, 2011 Toledo, Spain
Recent Meetings (presentations online)
--
AlWootten
- 2010-06-14