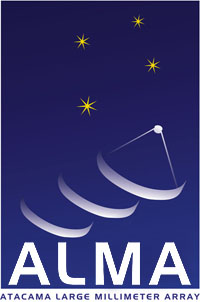 previous meeting
next meeting
Duration: 1 hr
USA Toll Free Number: 877-874-1919
Toll Number: +1-203-320-9891
Passcode: 185064
Leader: Al Wootten
Calendar
Calendar
| | |
| --- | --- |
| 2 December | ALMA Board Telecon -- ASAC Charges to be discussed. |
| 6 December | Computing Group face-to-face, Bavaria |
| 9 December | Calibration Group Telecon |
| 14 December | Science IPT Telecon |
| 14 December | ASAC Telecon |
| 5-7 Jan 2005 | UNSC URSI Boulder meeting Commission J Agenda |
| 8 Jan 2005 | Atacama Large Submillimeter Telescope Workshop |
| 11 Jan 2005 | ALMA Town Meeting, AAS San Diego; Agenda |
| 14-15 Jan 2005 | CSV Discussion, Socorro |
| 27 Jan 2005 | ALMA Board Telecon . Dates for 2005 |
| 24-25 Feb 2005 | ASAC Face-to-face Garching (tentative) |
| 24 Feb 2005 | ALMA Board Telecon. Rebaselining to be discussed. |
| 5-6 April 2005 | ALMA Board Face-to-face meeting, Pasadena, CA. |
Topics
Old Business The enhanced Agenda from last month's meeting is available. Science IPT notes from last month's telecon. Last Meeting Action items
DUSTY04
collection of papers relevant to ALMA.
New Business Project news/updates (Wootten and Wilson)
Milestones
09.2.17.2 Complete draft ICD between Science and Site Planned 2303d Not Critical
Group Activities (all)
Next meeting is on January 18th (15:30 UT)
Science IPT Group Activity Reports
Please include your Group Activity Report here (How to Enter Your Report), or email it to AlWootten
1 Integrated Project Schedule debut.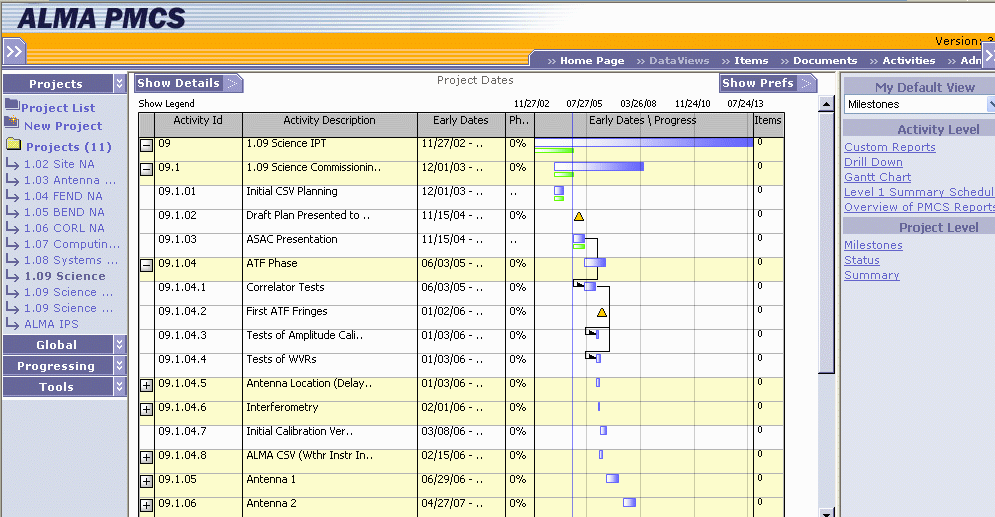 2 Science IPT Statement of Work:
JAO Ideas vs. ours
3 ASAC news 4 Antennas 5 Astronomer Outreach: NRAO
Newsletter
ESO
Newsletter
. NRAO ALMA
Calendar
Emerson/Laing -- Instrument Scientists
I am trying to finish a revised verion of memo 503 before Christmas. Changes are mostly minor; the one that is critical to the project concerns discussion and specification of the instrumental delay versus large angle (e.g 180 deg) slews. In memo 503 I had assumed that this would not be a problem, the technical spec I was working to implied that it would be only slightly larger than the variation in instrumental delay over 2 deg, but I guess publication of my memo made people aware that instrumental delay error stability over large angles was an issue (i.e. emails to me from D. Emerson at the start of November). I will try to converge with Bill Shillue on this and to suggest that we start negotiating a joint change request. Obviously its important to get to the bottom of this, if we can't calibrate antenna positions quickly the concept of continuous reconfiguation may be untenable, and if its really bad we may not be able to find our antennas at all to high accuracy even in conventional burst reconfiguration. Looking a Craig Walkers excellent comments on my memo, its clear that in geodetic VLBI active measuremnt of instrumental delay by injection of phase cal tones at the front end and detection of phase vs freq is vital to achieve millimeter accuracies. We are of course trying to achieve 10 times that accuracy without such a system. If there are doubts about whether the instrumental delay stability we require for antenna position determination are posible, such a scheme might have to be considered, and worked on as a backup. (and would also be useful for removing instrumental contribution in conventional fast switching over 2 deg). I understand that the LO distribution stability is one of the critical items for development in the whole project, I guess my worries on this issue have been increased after some informal discussions last week with Ralph Spencer and others at Jodrell Bank, where they pointed out the difficulties being faced in the LO distribution development.
Robert Lucas -- SSR
Meeting on 2004-12-17: Minutes last meeting
All Hands Meeting in Merano (Italy) last week. Many fruitful discussions. SSR involved in Observing Modes, Calibration data base ...
Recent software (R2) tests in Proposal Preparation, Off Line, Pipeline Heuristics.
Michiel Hogerheijde -- DRSP
Two new DRSP projects have been received and are being reviewed: (1) "The Heart of Eta Carinae" by Stephen White et al., (2) "Mass loss and outflow velocities in Magellanic Cloud AGB stars" by Martin Groenewegen. They will be added in the next few weeks as comments are received. Also, a slightly revised version of DRSP 2.1.9 has been posted.
This has been a major focus over the last few weeks--please see the wiki page for details.
Mark Holdaway/Steve Myers -- Imaging
Science Corner:
Alain Baudry's
presentation
on science advantages of the ALMA Tunable Filter, from the review in Bordeaux.
Upcoming Meetings
Dusty and Molecular Universe 27-29 October 2004, Paris
Presentations Online
2005 IEEE International Conference on Acoustics, Speech, and Signal Processing March 19-23 2005, Philadelphia
See
Radio Astronomy Session
; ALMA
Article
for ICASSP. Comments? Reviews welcomed.
IAU Symposium 227 Massive Star Birth: A Crossroads of Astrophysics May 16-20 2005, Acireale, Italy
Workshop on submillimeter wavelength astronomy in Cambridge (JUN 13-16). For more information, contact Paul Ho.
Astrochemistry throughout the Universe: Recent Successes and Current Challenges 2005 August 29 - September 2; Asilomar, California
Protostars and Planets V 24 - 28 October 2005 Hilton Waikoloa Village, The Big Island, Hawaii
URSI General Assembly 23-29 October 2005; New Delhi, India; "Mm/submm Techniques and Science" session 25-26 Oct.
--
AlWootten
- 09 Dec 2004