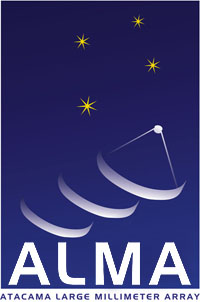 previous meeting
next meeting
Note: C. Wilson points out line noise may be muted by pressing *6 which works thru the call center.
Duration: 1 hr
USA Toll Free Number: 877-874-1919
Toll Number: +1-203-320-9891
Passcode: 185064
Leader: Al Wootten

Attendees:
Topics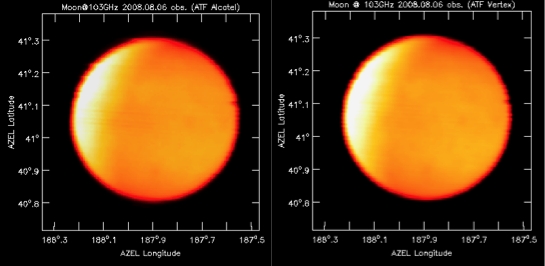 Calibrated raster maps of the moon using data taken on 6 August with the AEC (left) and VA (right) antennas. See
other images and animations
. See
other images
and
transporters
.
New Business--Project news/updates (Hills, Peck)
Commissioning Scientists are arriving in Chile - Stuartt Corder, Antonio Hales and Tsuyoshi Sawada are all now here and settling in.
ALMA Status Report R. Hills. See Report_September_2008.pdf. This recent report was done for ASAC. It is a bit turgid but covers most of what is going on.

Site: Installation of foundations continues. 27 high site pads have received structural concrete. A plan to populate these for CSV and beyond beginning with the ACA pads is being developed.
Antennas: Melco No 2 in shared use with AIV. Conditional acceptance expected in late Nov. Vertex No 1 has completed Surface tests: metrology systems being worked on. Acceptance likely to be in December.
Front Ends: The first "engineering model" is being installed in Melco No 2 this week. Delivery - the second "engineering model" front-end is under test in Taiwan and should be shipped to Chile by Nov 2008.
Back Ends: Production is rolling along and looks good on all areas except the LO where delays are still mounting. The Master Laser delivery has slipped again. We need to get development of the alternative underway as a matter of urgency, but the topic is rather complicated. See Alternative_LO_Development.pdf but be warned that this is only my view of it. Comments welcome.
Correlator: Assembly of the first quadrant at the AOS has been completed and a full set of tests passed succesfully.
Software: Overall external review planned for 17-23 Nov.
Systems: New group under Nick Whyborn now active. Developing detailed procedures for testing and verification of systems requirements.
Schedule: The schedule review is in full swing. The outcome of the detailed re-assessments will be reviewed in early October and a the new "firm" overall schedule will be prepared by the beginning of November.
ASAC Matters.

Face-to-face meeting in Charlottesville after Massive Star Formation Workshop; Report nearing final draft.
Panel to prepare ALMA Development Proposal has had four telecons
Directories
Science IPT Group Activity Reports
Please include your Group Activity Report here (How to Enter Your Report), or email it to AlWootten
Project Scientists
Science IPT

Change Control Board items Nothing major that is new here. Lots of details on ICD's, etc.,being tidied up. (Hills)

Science milestones for ALMA These are the proposed new milestones. Comments please.
Slight change in ACA antenna positions Documented (Morita)
Several problems with the site, including the levels of the pads in the central cluster and the schedule for delivery of fully operational pads. It is now proposed to use the ACA pads with 12m antennas for the later phases of commissioning and the start of Early Science. See ACA_opt1.pdf
Band 3 Receiver Noise Temperature Specification Following discussions at ASAC it is proposed to accept the new specification on the individual channels (higher noise but flatter) but not to agree to the spec applying only to the average of the two polarizations and not to accept the high value (4K) for the noise added by the warm optics. Comments?
ACA 7m surface specification. After the Pre-Production Design Review (PPDR) it was decided to leave the spec at 20 microns even under daytime conditions because it appears that this figure can be met so long as the dish is refocussed based on a thermal model and temperature sensors. (Hills)
Vertex antenna holography summary (Emerson)
Improvements to the extended configurations were discussed at the ASAC meeting (Project scientists). It was felt that, at the high cost estimated by Site IPT (~US$4M for 10 additional pads), this was not justified given that an improvement to image quality can only be expected under a limited range of conditions - very high signal to noise ratio on complex objects for baselines of 5 to 10 km. The did recommend installing additional fibers to make future additions easier. Do we agree?

ATF: (Laing)

Summary. ATF will operate thru 20 Dec, if at all possible. R. Laing will take over scheduling visiting science staff on Sept 1.
Sci IPT at the ATF Checklists, Progress Reports, OSF and ATF.
CIPT Wiki Daily ATF reports.
AIV wiki OSF/AIV Daily log.
| | |
| --- | --- |
| 2008 | |
| Week | Event |
| Oct 10 | |
| | |
| --- | --- |
| 2008 | |
| Week | Event |
| Oct 13 | Remote support for OPT |
Next meeting is on Nov 19th (14:30 UT). Dec 17th for the following month.
Astronomer Outreach:

New

ESO ALMA Webpages. http://www.nrao.edu/news/newsletters/][NRAO Newsletter]]. NAOJ News. NRAO ALMA Calendar
Commissioning and Science Verification

Plan.
A request for additional manpower has been approved. Advertisements are out. Please inform interested parties.
A detailed study of the thermal and RF properties of various designs of calibration load has been released. It is rather large:
Load_models.pdf
. A decision is now needed (rather urgently) on what design(s) to take forward in constructing a prototype(s) prior to full production.
Pointing Design document now drafted. Waiting for release of metrology system details to complete.
Calibration Plan: Current version of the calibration plan and associated documents ("examples", "roadmaps", "matrices", etc.) posted. Comments welcome.
Calibration Examples: The "meat" of the Calibration Plan. Review of these documents nearly complete, some need updates.
Ancillary Calibration Devices:

Documents which describe the weather station and temperature profile technical specifications have been developed.
Initial purchase of (P,T,RH,Ws,Wdir) measurement devices has been made by Leonardo.
Specification of site infrastructural components (enclosure, tower, etc.) have been made and sent to Site IPT.

Refractive Bending and Delay Calculations:

Analysis complete. See wiki page for details.
Recent analysis of Yan refractive bending model suggests that it is limited (using sla_refro as benchmark).
Worked with Pat Wallace to implement improvements to sla_refro, including incorporation of Liebe atmospheric model.
Recommendation is to use sla_refro for refractive bending (note: currently used in M&C software in use at ATF).

ALMA Calibration Device (ACD): Several reviews (involving acronyms that I won't repeat) of ALMA Calibration Device (ACD) over past month point to both good and bad:

Good: Robotic arm tests suggest that positioning between bands will be as fast as 5-6 seconds, rather than the anticipated 9 seconds.
Bad: Frontend IPT unilaterally changed specification of solar filter to exclude use at Bands 1 and 2. Change not approved, and justification for change flawed.
This took place and there are lots of interesting presentations at that link.
This includes an update on the work that Bojan has been doing on Phase Correction.
Robert Lucas -- SSR
SSR meeting ski8pped this month. (2008-11-12).
Transformation into new body to begin by end of year.
working on version 2.1, adding some projects, cleaning up.
summary spread sheet almost completed.
Some items to be added - more polarization cases, pulsars, is there anything on fine-structure in hot haloes using S-Z?
Weather station deployment: ICD Site to Weather instruments.

Shelter. AW proposed reusing the container, which was originally a proposal from Eduardo's predecessor and seems a minimal money investment to me.
Fiber. Meeting 26 Sept agreed to put additional fiber bundles into trenches to accommodate weather stations.
Power. The power distribution is three phase 440 V. Donoso noted that two phases provide the necessary voltages to run the weather stations. Making sure that this is done at the site is a matter of field engineering, a locally solved problem. Last chance for input.

OSF Weather Station link.
APEX Weather Station link.
The Center for Chemistry of the Universe will assemble a group of researchers across North America to investigate and understand the chemical processes that provide the synthesis of molecules in the interstellar medium. Currently, as a proof of concept, The Center "forged" a unique research collaboration in the field of astrochemistry from the University of Arizona, The Ohio State University, the Harvard-Smithsonian Center for Astrophysics, the National Institute of Standards and Technology (NIST), NRAO, and a group of chemists and physicists at the University of Virginia engaged in research to understand the fundamentals of chemical reactions.
Science Corner:
arXiv:0808.3476
Title: Constraints from deuterium on the formation of icy bodies in the Jovian system and beyond Authors: Jonathan Horner, Olivier Mousis, Yann Alibert, Jonathan I. Lunine, Michel Blanc "Atacama Large Millimeter Array (ALMA) will ... provide an opportunity for observers to measure f in the atmospheres of the planets, and comae of comets."
Calendar
Events of Interest
(see also Al's
ALMA Biweekly Calendar
)
| | | | | | |
| --- | --- | --- | --- | --- | --- |
| 2008 | | | | | |
| Day | Date | Time | Event | location | details |
| | Oct 15 | | Sci IPT telecon | Telecon | |
| | Nov 12-14 | | ALMA Board f2f | | OSF |
| | Nov 17-19 | | Software Review | Santiago | |
| | Nov 19 | | Sci IPT telecon | Telecon | |
| | Dec 9-11 | | ALMA Annual External Incremental Review | OSF | |
| | Dec 17 | | Sci IPT telecon | Telecon | |
Upcoming Meetings
URSI/NA Meeting
Jan 5-8, Boulder --
AlWootten
- 10 Oct 2008